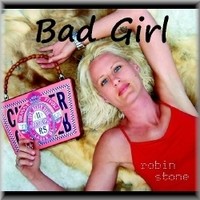 Get ready for Robin Stone as she brings you her new album full of so much good flavor.   Bad Girl proves that Stone is a gifted singer/songwriter and a force to be reckoned with in this business.   If I had to use one phrase to describe this record's overall sound I would call it: Funky Soulful Jazzy Pop.   Neo soul music with a pop twist is what you're getting here.   I guess they don't call her "Skinny, Funky, White Chocolate for nothing!"
This is actually Robin's fifth release with the last one coming in 2003 with RushMore.   She's actually had some big obstacles along the way such as a life-threatening illness that caused her voice to go out at the time.   To this day, Stone still battles with this health issue but there is nothing stopping her from achieving her dreams.   Her sheer will power and motivational drive is an inspiration in itself.   She brings to you a record that displays so much good energy while showing off her incredible singing/songwriting abilities.
Bad Girl starts up with a tastefully smooth and soulful jazzy approach on "Will You Wait for Me".   On the title track "Bad Girl", you get an engaging/touching story about a girl living in a half way house as she struggles with life.   You truly feel her music as you listen to her sing.   Pure feeling galore is shining through loud & clear!   On song four, "When You Go Home Today", I'm hearing a soft 'n' powerful vocal delivery with the piano adding a classy/calming effect.   On installment seven "Get Up", you will want to rise up & move to this uplifting number.   There is actually a gospel choir present on this track, which gives off a spiritual element and happy-go-lucky feel.   On "Summer Wine", you can actually sense the warm weather approaching as you enjoy a glass of wine.   Robin Stone is getting you ready for that summertime fun–lovin' it!   On song #13, "God Made You Right", I really am enthralled by the simple & direct words being voiced here by Robin Stone.   On the closing track titled "7 Course Meal (Soul Food)", right away I hear an automatic crowd-pleaser that could quite possibly become a fan favorite at live shows.
Funky soul pop to put some pep in your step is what Bad Girl is all about.   Along with Robin's tenacious vocals & spirit, you will also get a dose of funky-ass bass lines, nice acoustic guitar playing and whalin' sax moments that you gotta love!   Such a cool vibe on this album as you experience an extremely well-done project by singer/songwriter/producer, Robin Stone.   Voted Best Vocalist of 2009 by Scene Magazine and a ton of other impressive accolades, this artist is setting sail for instant success.   If you don't believe me, then SKOPE her out for yourself at www.shelovesyourecords.com where you can learn more about her fight and even get involved yourself.   I'm a new fan of Robin Stone, her message & her music and I know for a fact there will be many more to come!  
By Jimmy Rae (jrae@skopemag.com)
[Rating: 5/5]