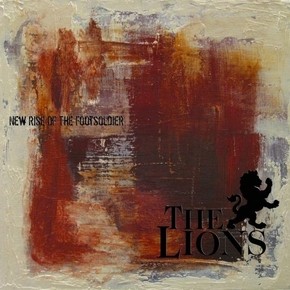 The Lions are writing new songs at a feverish pace, touring incessantly, and enjoying all the freedoms that come with being a true indie band.   The Lions have been able to release two full length albums called Sounds Familiar and Live Love Laugh, 2 EP's-The Lions & Rock N Roll Lounge (EP Sessions) and one live album-Live at MacEwan Ballroom.  
All this material was released from 2008-2009; most bands put an album out every three years!   Local magazine FFWD believes The Lions are "the kind of good old-fashioned rock and roll band that doesn't get praised enough".   Tanner Holthe from Beatroute Magazine thinks they are "unstoppable" and also said, "Judging by the line-up at their merch booth after their set, it was evident that the crowd was stoked with their performance" (Live Music Review on opening for Jet, Nov. 2009).   I think both FFWD Magazine and Holthe are right on the money here!   I also believe this is one hard-nosed rock 'n' roll band that just makes good music and has a lot of fun while performing.   Good times and good tunes is what this band is all about. The group is made up of three members: Chris Millar on lead vocals & guitar, Justin Luchinski on bass and Liz Dumenko on drums.  
The trio currently resides in Calgary, Alberta Canada and in 2009 they toured across Canada, played NXNE, were on Mobile's 'Sound of Fiction Tour' for two dates and even opened up for Our Lady Peace, Jet and The Arkells.   The Lions' single "Screaming Gun" was featured on Alan Cross' Explore Music Show on July 16, 2009 as a "band to watch out for" and were most recently featured again on April 26, 2010.   The group won X92.9's 'Xposure 2009' as one of the best rock bands in Calgary.   The band was also featured on Jim Gellatly's New Music program in his podcast 76 2010 and this is what he had to say: "I do like the rawness of 'The Lions' album [New Rise of The Footsoldier]…I think all bands should be forced to have a list like that on their album just to prove that they have some musical credentials and that they've done their homework".  
The Lions "New Rise Of The Footsoldier" MP3:
The Lions will have a new full length album out in May 2010, which will be their best album yet titled New Rise of The Footsoldier.   Just last month they had a live radio interview with Rock 105's Ian Shaerk to promote their new record.   I see a string of interviews and appearances coming their way very soon because this is one talented & determined band and New Rise of The Footsoldier is one solid rock album.   The Lions are even being added to Independent radio stations across America with three in their pocket already.   This ferocious group is set to take the world by storm with their rock-a-licious vibe.   The group is scheduled to play in the states for the first time this summer, which will be very exciting!   The first U.S. stop is Kelly's Olympian in Portland on May 19 and then Skylark in Seattle on May 21.   These two spots are the first of many to come for The Lions as I feel the United States and afar will be very familiar with this Canadian threesome soon enough.   This band is about to make some incredibly loud noise worldwide, so get ready!   Here are some cool links you can SKOPE out for yourself to find out more about these rock & roll kings of the music jungle: http://tiny.cc/newrise iTunes Link, www.thelions.ca and www.youtube.com/thelionstube – all our live videos.  
Written by The Lions/Jimmy Rae