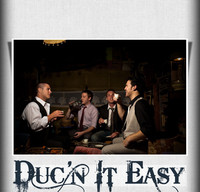 This six-song set from Duc'n it Easy will excite your senses and get you all fixed up with some feel-good tunes.   October features a mellow rock approach with a jam band feel that also incorporates elements of country from time to time.   The overall vibe is extremely cool with a laid-back demeanor and a smooth-to-the-touch appeal.   I am hearing easy-going grooves on this EP and I have to say I like what I hear.
The band is made up of four talented musicians: Antonio Casasanta on lead vocals & guitar, Steve Rice on lead guitar & vocals, Steve Paddick on drums and Dan Beauchamp on bass.   Actually there is a very funny/meaningful story behind the name of this group from Milford, Massachusetts.   Duc'n it Easy actually refers to simply duct tape believe it or not.   Early on in their music career, funds were low and equipment was expensive so what do you do in that situation–improvise!   They did just that using duct tape for virtually anything from their mic stand to their guitar straps.   Duc'n it Easy have moved on from having to use duct tape on everything, but the legend lives on forever!   Another interesting story involves the bassist, Dan Beauchamp, who actually was a former guitarist for seven years.   When the members of Duc'n it Easy approached Dan to play in their band as a bass player, he did not hesitate for a second.   Beauchamp dropped the guitar just like that and picked up the bass for the first time learning all the songs in less than a week!   Amazing feat for Dan and this further adds to the allure that surrounds the duct tape phenomenon.   ANYTHING is POSSIBLE as well as being USEABLE & DOABLE!!
The disc starts up with the sound of a locomotive pushing full steam ahead.   This group from Massachusetts is doing just that by bringing their hip sound to the forefront.   I noticed right away that Antonio Casasanta had a fan-friendly tone to his voice.   Many listeners will appreciate Antonio's catchy & distinct vocals as he sings from deep inside.   The focal point for me was the connection between the acoustic & electric guitars.   There were some stellar electric guitar solos while the acoustic guitar added the driving and definitive melodies.   Combined, both guitars gelled perfectly together as the connection seemed meant to be.   The electric side offers that pumped up rock pizzazz while the acoustic side brought it down to a more subtle & organic sound.   In this case, Casasanta and Steve Rice are a perfect example of peanut butter and jam.   It just works every time no matter what!   Add in solid bass lines, notably on the title track "October", and keys that add a terrific background flavor and there you have it—Duc'n it baby!
With the excitement surrounding this new EP, I can't wait to hear a full-length record from this band.   Just try to unglue the tape that holds this group together because Duc'n it Easy are standing straight and tall in the end.   They have solidified themselves as one buzz worthy bunch that will definitely get a lot of recognition to come.   For more on Duc'n it Easy and their new release, October, SKOPE out www.ducniteasy.com.  
By Jimmy Rae (jrae@skopemag.com)
[Rating: 4/5]