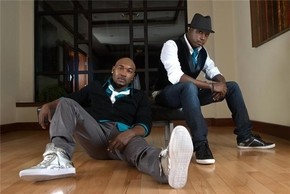 After a long hiatus, the boys from Houston, best known to us as H-Town, are back, with their forthcoming album, "Child Support", set to release this month.  
The group, which formed in 1992, consists of longtime friends Solomon "Shazam" Connor and Darryl "G.I." Jackson. (Shazam's brother, Keven "Dino" Connor, the original third member of the group, died tragically in a car accident in 2003.) Thanks to Luther Campbell (known popularly as "Uncle Luke" of 2 Live Crew fame), who became both their producer and manager, the H-Town fellas hit it big with their 1993 debut "Fever For Da Flavor", which featured "Knockin' Da Boots", a song that would remain an R&B classic for years to come.
"People appreciate real music," explains Shazam. "We're bringing back real R&B again, trying to do songs (for) people that really appreciate R&B."
Since their debut, H-Town has released two other albums, "Beggin' After Dark" (1994) and "Ladies Edition, Woman's World" (1997), both of which went gold. Their "Imitations of Life" (2004), a reunion album, was also released.
With the upcoming "Child Support" album on its way, the group notes that the songs are for everybody, for "the young, the old, the middle."
"Fans were coming up to me…a lot of women were coming up to me saying, 'I need some child support…I'm making kids off your albums,'" Shazam explains of the album's title.  
What can be expected of "Child Support"? Well, the traditional H-Town formula of songs that involve love and lovemaking are what come to mind.
"'Call Me Mr. Pacman'" is about a man pleasing his woman," says Shazam of one of the songs off "Child Support". "He likes to taste her a lot, is an undercover freak…every woman should get them a Pacman."
H-Town "KNOCKIN YOUR HEELS" ft. Jodeci & Pretty Ricky
Several other tracks on the album that standout include "I Like", "Role Play", and "Dang" featuring Lil' Flip, which talks about "a girl we saw and you say, 'daaaaang'."  
 
One of their songs, "Knockin' Your Heels Off" features their longtime friends, Jodeci — DeVante Swing, Dalvin DeGrate, Joel 'JoJo' Hailey and Cedric 'K-Ci' Hailey. The song was on rotation nationally on various music channels (VH1 Soul, MTV2, etc.), as well as on YouTube. When one listens to "Knockin' Your Heels Off", it sounds like the sequel, or the grown 'n sexy version of "Knockin' Da Boots". The song was also remixed, featuring Pretty Ricky.
 
"Pretty Ricky liked 'Knockin' Da Boots' from back in the day and (they) wanted to do a collaboration," Shazam says.
Bringing back that 'ol school R&B sound isn't the only thing H-Town is bringing to the table. Since losing his brother, Shazam says that with such life changes, he's become more appreciative of life, and is trying to cherish family and friends more.  
"(They) might be here today, gone tomorrow," he says. "We just kind of wanna be a closer unit."
 
Appreciation is not just for family and friends.
 
"H-Town…we're hardworking men. We still wanna put on great shows, energetic shows," adds Shazam. "Our fans, we really appreciate them for the support of H-Town. We wanna thank all our fans and tell them that we really appreciate them.
For more information on H-Town, visit www.htownlegends.com.
Author: Erika Y. Gradecki