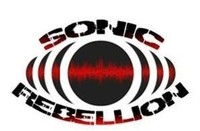 Are you ready for a rebellion full of hard rock and jaw-dropping energy?   If so, it's time to get on board with Sonic Rebellion and their new record, Heads We Win…Tails You Lose.   This NYC-based band brings to you a sound that is revved up, amped up and I would even say electrifying.   Sonic Rebellion will, without a doubt, get your adrenaline pumping as you experience a full set of rock-nasty jams.
The group is made up of four talented musicians: Andy Smith on vocals, Lefty on guitar, Dustin Smith on bass and Sean Pokress on drums.   The overall band chemistry is unreal as each member brings their A-game with authority.   The guitar solos/riffs are on fire, the bass lines are solid, the drums are bangin' loud in your eardrums and the vocals are digging deep with raw power.   Smith's vocal performance exhibits that graspy feel that really adds to the edgy tone of Sonic Rebellion.   The singer is not holding back anything as he unleashes his fiery vocals on you.   Just like NYC, the entire band is doing it up BIG and simply letting you have it!
What was so cool to hear was that these four guys are dedicated to playing straight hard rock with no surprises and no fancy gimmicks.   You get what you hear, which is loud rock 'n' roll music that comes complete with explosive sets.   Sonic Rebellion play at such a feverish pace with their authoritative musical approach.   I would definitely consider this new record to be hard-nosed tunes that pack a punch.  
Their aggressive, no-nonsense attitude is displayed perfectly on "Mad As Hell" where Smith blurts out "Aint gonna take your shit & Aint gonna take your lies".   On tracks 8 & 9, you hear some body-shifting grooves where you'll catch yourself uncontrollably moving to the beats of the songs.   I was definitely digging each and every song on this album as my head was definitely in motion.   In the words of Quiet Riot "Bang Your Head"!  
This is one record that you can really have a good time to by just letting loose and rockin' out.   I highly enjoyed this CD because it was fun and full of insane energy plus you get hard-hitting music for your listening enjoyment.   I would recommend this new project by Sonic Rebellion to anyone who likes power-packed songs complete with that rebellious demeanor.   The question is are you ready for this musical thrill ride? —Heads We Win…Tails You Lose.   For more info on this exciting group from NY and their new release, SKOPE out www.sonicrebellionrocks.com.  
By Jimmy Rae
[Rating: 5/5]