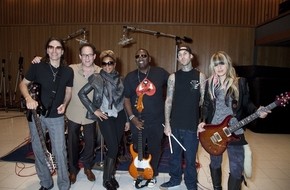 A fearlessMary J. Blige is taking on rock icon–Led Zeppelin.   Her covers of two of rock's greatest songs, "Stairway To Heaven" and "Whole Lotta Love," will be available in the U.S. digitally on April 13 on iTunes.  
Blige will perform "Stairway To Heaven" along with "Each Tear," from her latest album Stronger WithEach Tear (Matriarch/Geffen), the same day on Oprah.
Blige, crossed genres in 2005 with her successful mash-up of "One" with U2 and earlier this year with Andrea Bocelli for a recording and live Grammy performance of Simon and Garfunkel's "Bridge Over Troubled Water." Blige says   "There's a group of fans out there that because of 'One' will appreciate my version of 'Stairway To Heaven'."   In fact, at a private dinner party for Mary, U2's Bono was asked his thoughts about Mary remaking the famous song.   He thought it was an incredible idea and added that she should tackle "Whole Lotta Love" as well.   After his suggestion Mary took Zeppelin full on and the journey began.
"WHOLE LOTTA LOVE"
"STAIRWAY TO HEAVEN"