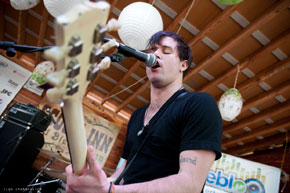 What do you get when you mix the over saturated "Music Capitol of the World" with the extremely populated music industry itself? A little thing us in Austin Texas like to call South By Southwest.

It's here again to beat you up, take your money and feed you excellent varieties of music, then disappear without leaving a phone number. The annual festival was bigger and better this year, as it tends to be each year.
After a long day of free shows and perfect weather, I spent my first night on Red River, A street in Austin that has quickly become just as popular than the infamous "6th Street." I started my evening at Emos, with a 7 piece from northeastern England called The Unthanks. With sister singers/clog dancers, and variety of instrumentation including a cello, upright and violin, I thought I might be a bit more entertained. Unfortunately, their somber attitude and even more dreary chamber-folk songs bored me to tears. I quickly made a dash for the door and scooted over to Red 7, where a metal fiasco was in full effect. I caught, Born to lose, followed by Trash Talk, Howl, and Graves of Valor. In my personal opinion, metal shows are the most high energy entertainment you can get, but what can really be said to describe the difference in metal bands? Throw around the words shred, rip, rock, dark, epic, gnarly, and theatric, and bam… A metal review. Metal shows are like cocaine to me, I just wanna stay up all night and keep doing it. So I hurried over to Mohawk for more of my drug. The Gates of Slumber, a hairy 3 piece from Indiana, were playing upon arrival followed by a kick ass performance by Zoroaster and Priestess, one of my favorite metal bands to catch live, go Canada! During all the shredding, I wondered over to Mohawk's neighbor venue, Club Deville. I was interested in Middle East, Bowerbirds, and Califone. These types of bands really speak to my musical soul, and judging by how the crowd seemed to multiply throughout the night, it speaks to everyone else too. Good job Brooklyn Vegan, host of this event. At this point I retired for the night, in preparation and restoration for the rest of the week.
After my coffee and oats, I leisurely headed downtown for more music and madness. Starting out on the Eastside, at Scoot Inn. This side of Austin has really blown up lately. In the passed year, dozens of bars and music venues have opened east of I35, and weekend after weekend people flock over to the Eastside for booze and fun, SXSW was no exception. When I arrived at Scoot Inn, Jaguar Love was trying hard to rock the stage. They are a 3 piece who share members of The Blood Brothers. They are fun to photograph, but thats about the only good thing I can say about them. Next was a must see for me this year at SXSW. Timber Timbre, a three piece folk rock band from surprise surprise, Toronto! All the good shit comes from Canada. They were incredible to say the least. Singer/Guitar/Kick Drum Taylor Kirk's voice is a haunting blend of eerie blues and romantic classic jazz all mixed together with the right amounts of simplicity and roots. They surely had me "under their spell." After being blown away, we used our good parking karma to venture over to Side Bar on 7th, just in time to catch Dengue Fever. This cambodian rock band from Los Angeles always brings the fun, they were wonderful as usual. After a quick break and shower, I hoofed it to a small house, crammed to the edges with warm bodies. It was a sauna in there, and I know exactly why. The line-up was insane. Woods was the only band I could manage the crowd for, I fell in love with this threesome from Brooklyn upon first listen. Even owning all their records, I got more than I was expecting out of their live set. The songs came alive, way more energy, they went from indie-folk to straight up rock-n-roll. Austin local, one man band, by the name of Silent Land Time Machine, played a bit later. He always puts on a great show, and I'm sorry that I had to miss it, check him out. After catching a ride downtown, I ended up at Emo's where Local Natives were about to play. These guys are a beautiful indie rock 5 piece from Los Angeles. They brought ass shaking live versions of tracks on their high energy album Gorilla Manor, with great 4 part vocal harmonies, yum. When they finished, I ran over to Emo's annex to catch Centromatic a Texan 4 piece from Denton, great as usual, sounding just like their records. Followed by White Denim, an Austin superband, who always bring their A game. If I owned their record it'd probably be collecting dust, but I'll see them live anytime. I started my Thursday at 1pm and now all of a sudden it was 2am, delirium had set in and it was time to hit the hay.
Friday I took the day off, in fact I didn't get out of bed until noon. Talk about a great feeling. I started my relaxed night at 8pm on West 6th street at Annie's West. Mostly a local music gathering, I was really impressed and felt more at home then I had all week. I caught an indie rock 6-9 piece (depending on the show) called The Eastern Sea. They exude melodic pop with a great blend of rock. They were followed a performance by my band, Gin City, a dark folk duo from Austin. We're sultry, sleepy music, with Jazzy angelic vocals, which have been compared to Beth Gibbons of Portishead. Check us out! Later that night I caught a brief set by an Icelandic band called Seabear. I got to talk to the guys after the show, and spent most of the night talking about their hometown of Reykjavik. Now I want to visit Iceland!
Saturday night was the big night, the night that can make or break you. After a full 3 days of going, doing, listening, talking, boozing, rocking, playing and partying. If you're not passed out in the gutter somewhere, you're going out with a bang! For the forth consecutive year Skope & MeowPoww Media have teamed up to bring an amazing showcase of talent from across the globe. We are huge supporters of local business and are all about doing things for the city of Austin. We are funding a city that generously opens itself up to thousands of musicians, not only during this huge event but everyday of the year. We are doing this as a thanks to all that is Austin. This year our showcase was held at The Music Gym, located on East 6th st. from 9pm until our after party ended at a whopping 5am. This year we were sponsored by Exemplary Records, The New Movement Theater, Loco Nunca, 40 Creek Whiskey, Malt of the Earth Brewery, and The Versatile Syndicate. We had an amazing line up by a list of bands including, Jesse Moore and the East Cameron Folkcore, Pepper Rabbit, Cory Branan, UUVVWWZ, Midnight Masses, and Mini Mansions. With very very special mention to Cartright, The Fever Dreams, The Demon Beat, Listen Listen, Anti-pop consortium and American Sharks. Toward the end of the long night at Music Gym, we were all packed into the venue like pickles in a jar. The Whiskey was flowing, the people were happy, but we were running out of time. Hey musicians, when its time for your set and the band before you hasn't finished yet, what do you do? A: sit around and pout like a bunch of babies … or … B: find a place, plug in and get loud! Ding ding ding we have a winner, and thats exactly what our closing band, American Sharks did. These guys are the definition of party. Thanks to everyone for making our shindig a success, and thanks to SXSW for keeping me happy and crazy once a year! See you next March!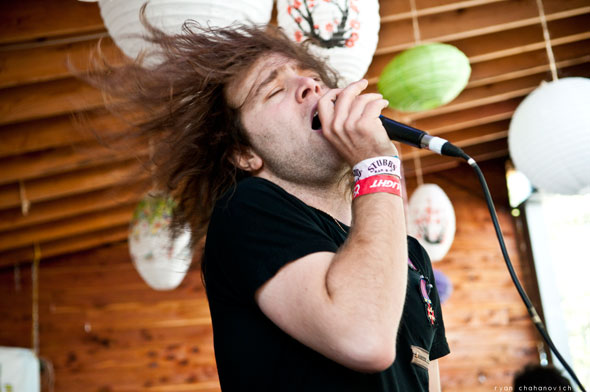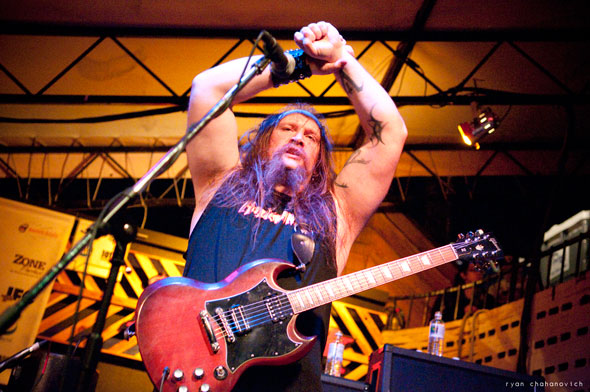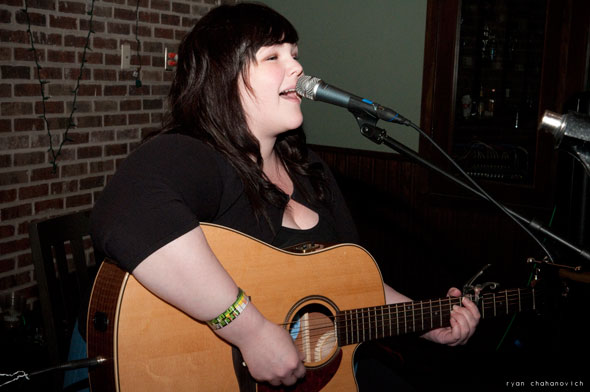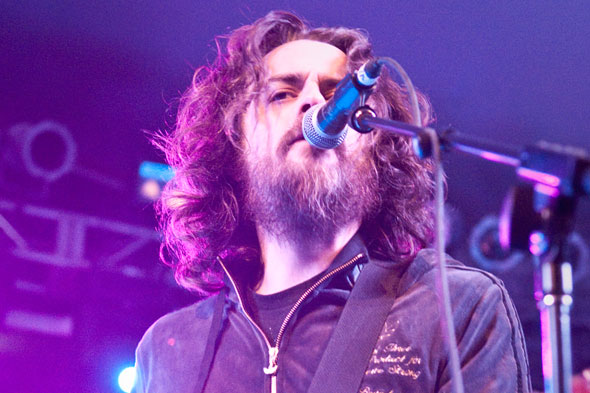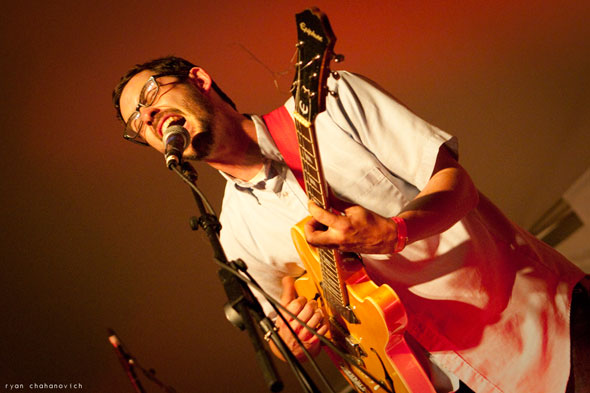 Photos by Ryan Chahanovich and Ginger Herbert