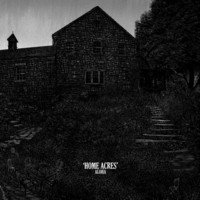 Home Acres, the third and latest release from Aloha takes a leap into some strange and bold new territory for the band; and it's a leap that may very well pay off for Aloha. Though the amps are still cranked and they're doing whatever they can to keep their feet planted firmly in the dirt of indie rock, they charming harmonies and patient builds make Home Acres the kind of record Death Cab for Cutie fans will spend an afternoon with and become unbegrudgingly seduced.
The swift up and down bump of Home Acres really finds its groove on "Microviolence," the third track. Here, a rolling Americana rhythm showcases the build that Home Acres will surely become known for. Yet as groovy as "Microviolence" is, there's something missing on the track, and it remains missing throughout the eleven tracks of Home Acres; a pertinent explosion of sound. The sound Aloha shedding its skin and not worrying so much about how long to hold these seismic, rolling builds. Two tracks later, on the cryptic and burgeoning repeated riff ways of "Everything Goes My Way," begins sounding a lot like Elbow, a band that managed to write grand songs rich with possibility, yet these tracks hardly ever delivered.
It's not beyond Aloha to pick things up a notch on Home Acres, trying their hand at jangle-rock on "Blackout," with fairly successful results. And no, Home Acres is not boring by any means. Yet you've got to have a truckload of patience for it, and not everyone does.
By Joshua Kloke
[Rating: 2.5/5]