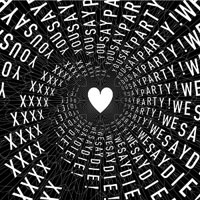 Shiny synthesizer melodies mingle with edgy, punk riffs on XXXX the third album by Canadian indie rockers You Say Party! We Say Die! (YSP! WSD!). The band channels the past in the new wave sound yet it is infused with a dose of punk swagger – a fitting rebel yell for the dance floor fiends.
YSP! WSD! worked with producer Howard Redekopp on this album. His previous collaborations include artists like Tegan and Sara and The New Pornographers. It's clear that his capable hands have helped YSP produce a highly polished work.
The first track "There is Xxxx" starts with a spacey keyboard melody and lead singer Becky Ninkovic's breathy vocals and then picks up the pace with the chorus on 'There's love within my heart / love, love, love' with up tempo drums and guitars.
"Glory" is a rambunctious swaying punk anthem like an edgier version of The Go-Go's. "Make Xxxx" starts with a heavy bass line and Ninkovic is more aggressive vocally as she hollers and shouts her verses. "Laura Palmer's Prom" conjures up images of a John Hughes film with its vulnerable lyrics, delicately sung and floating over airy synthesizers 'My hearts needs a love dance'. "XXXX/Loyalty" is ominous with its dark and unsettling melodies showing off the bands brooding side. The album ends with the sentimental "Heart of Gold" with both Ninkovic and backup singer/keyboardist Krista Loewen harmonizing together.
XXXX is an upbeat and addictive album that may seem like an 80s throwback – and in many ways it is. But YSP is able to infuse an edginess that effectively breathes new life into the retro sound.
[Rating:4/5]
Listen to "There Is Xxxx (Within My Heart)"
[audio:http://skopemag.com/audio/01 There Is Xxxx (Within My Heart).mp3]