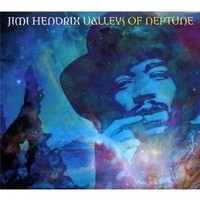 This is the newest offering by the Hendrix Family/Experience Hendrix of previously unreleased versions of vintage Jimi material. The 12-song release includes a booklet on the origins and history of the songs. The disc includes previously unheard studio versions of Bleeding Heart, and Sunshine Of Your Love. The recordings were done at both The Record Plant in N.Y. and Olympic Studios in London, covering the time frame from 1967-1970. With four Top 5 albums in his lifetime, this is the third after his death. This release entered the Billboard Top 200 at #4 nearly 40 years after his death, besting Elvis (26 years) in this category, moving him into second place. Note: There's still time for another posthumous comeback Elvis! The new Rolling Stone cover and story coincide with the Experience Hendrix tour supporting the CD. Always topping the polls for influential and best all-time guitar player, Jimi has been considered one of the best all-time combined R&R threats when adding his writing and vocal talents as well.
The songs are all mixed and co-produced by old friend Eddie Kramer, who seemed about as pumped when discussing the release at the NAMM show, as he probably was when he originally worked on them. The accompanying musicians are mainly Noel Redding, and Mitch Mitchell, and sometimes Billy Cox, and a few assorted friends helping out with vocals and miscellaneous percussive instruments.
The title track is a neat take, showing raw Jimi skills. Bleeding Heart is a great take on the Elmore James song that Jimi definitively makes his own. Hear My Train A Comin' features those classic Jimi vocals (even though Jimi didn't like his own voice) playing off against the guitar riffs. Sunshine Of Your Love is an extended jam instrumental tribute Jimi style to one of his favorite guitarists and groups. Excellent raw versions of Fire and Red House have a genuine "Garage Band" feel except the guitarist is playing miles above everybody else (sort of like Lebron James playing a pick up game on the playground). Lullaby For The Summer features an interesting Echoplex sounding guitar vibe. Crying Blue Rain is another jam that exudes that "Hey Joe" soulful feel.
The vaults still hold volumes of jams, studio work, and whatever peaked Jimi's interest at the time. Keep on the lookout for more releases on the Experience Hendrix website. Always something old, but new again to learn!
Note: For you serious audiophiles, this disc is also available on VINYL!
By R.M. Engelman
[Rating: 3.5/5]