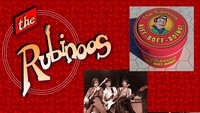 The Rubinoos started out as a California power pop group/garage band formed in the late 60's while in junior high by guitarists/singers Jon Rubin and Tommy Dunbar.     The guys were hooked up early in their career with the infamous Berserkly Records and eventually producer/whiz Todd Rundgren and his genius cohort Kasim Sultan.   They are best known for having hits with a cover of Tommy James' I Think We're Alone Now, I Wanna Be Your Boyfriend (and a lawsuit against Avril Lavigne's Girlfriend settled out of court), and the title song from the movie Revenge Of The Nerds.   They are the veterans of six albums, not including some live recordings and compilations.   With all of that behind your belt, what's left but to do a CD aimed at kids? The group is rounded out by Al Chan on bass, Susie Davis on keys, and Dave Rokeach on drums.  
The group has taken some rock standards and re-routed them, while adding some original tunes.   They have decided to attack the creativity of luminaries like Roger Miller, Andy Kim (Archie's), Dave Seville (Chipmunks), and yes, John Entwistle.   The purpose of the offering is to get young kids to sing and dance to something that isn't decadence related, before they're corrupted by the readily accessible airwave trash out there.   The group has added some doo-wop and silliness while competently committing good arrangements and musicianship.   After all, what classic rock listening adult can ever get enough of Witch Doctor, Boris The Spider, and even (come on now) Sugar, Sugar?   Yes, Sugar, Sugar.   Didn't it remind you of the good times you were having in 1969, as it seemed to get played every 10 minutes all summer (seemed like all year long) long no matter what you were doing?   I personally would have also added McDonald's "Filet Of Fish" song, as I can't escape it or the singing fish mentally either!
The offering has already gained unanimous raves from educators, and the group is looking at touring to support the release.   This is a novel concept with good intentions.   It's some tongue in cheek fun, and if you have small kids, it should hit home.   Also check out their earlier phase You-Tube concert footage.   Some cool stuff.   P.S.   If you draw some Raspberries comparisons, they actually covered Tonight on their Live In Japan album!  
By R.M. Engelman
[Rating: 3.5/5]