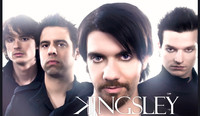 Pop/rock sensibility, nuanced electronica and deep thought, optimistic lyrics come together on Kingsley's new full-length Digital Providence. Again teaming with producer Jeff Kanan (Madonna, No Doubt), the sophomore release weighs in at a lofty 15-tracks of radio-friendly pop/rock goodness. The album as a whole is reminiscent of 30 Seconds to Mars, The Killers and like contemporary radio alt.
Leaning on heavy instrumentation, the album opens to "All of Me, All of You." The electro-laced intro gives way to urgent riff work and demure verses that crescendo to a floodgate chorus. Tons of musical facets intros the album with Kingsley's best foot forward. The ubiquitous "Imagination" contains throwback New Wave synth work and powder keg electric guitar over effects-laden vocals. This is sure to make alternative stations around the country. "Revolution" is replete with Killers-esque keyboard, a harmonized chorus that again peaks at fever pitch tempo and utilizes clever, trademark time changes (many tracks contain this element). Dirge-like organ and danceable beats are the earmarks of "Take Me." The dour organ gives way to spacey keys, wa-wa pedaled riffs and Brandon Sweeney's strong vocal delivery.
Building on the success of their digitally released debut and capitalizing on an established European fan base, Kingsley seems to have reached deep into their musical repertoire and blended an amalgam of genre influences to put forth a respectable second outing. Though many track arrangements seem to follow a vein of continuity (powerful intro, verses, chorus, time change/bridge, chorus), Digital Providence has certainly evaded any sophomore slump.
By Chris West
[Rating: 3/5]