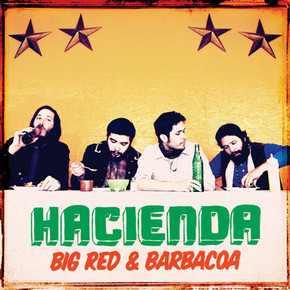 BIG RED & BARBACOA is the second album by South Texas' HACIENDA, and like its predecessor Loud Is The Night (Alive 2008), it was produced by Dan Auerbach of The Black Keys.
Recorded on the tail-end of a year playing clubs and festivals across North America, Australia and Europe (opening for Dan Auerbach and Dr. Dog, and more recently for Alberta Cross), this new album brings heavier grooves and flavor to the '60s harmonies sound the band is known for. The result is a blend of Tex-Mex roots rock, retro-pop and R&B that can only be described as South Texas Soul. BIG RED & BARBACOA captures the attitude of a band ready to throw pretension to the roadside and play rock'n'roll the way it was intended.
FREE MP3 DOWNLOAD OF HACIENDA'S NEW SONG "I KEEP WAITING"
 
SKOPE IT HERE!