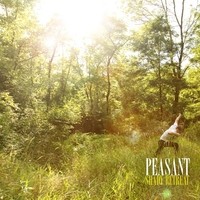 Obviously artists vary in terms of the complexity and simplicity of their music. Some tend to blend a myriad of instrumentation that equates to a "sum of the parts" aural assault. Others tend to lean on a "less is more" approach and allow the music to stand on its own merit. Pennsylvania's Peasant leans on the latter and his latest release Shady Retreat echoes this sentiment with slight instrumentation, simple melodies and his ever-present wiser-than-his-years lyrical subject matter.
The album opens to "Thinking" with sparse instrumentation–simple backing keys and intermittent guitar allows 18 year-old Damien DeRose's near falsetto-vocal delivery to do the talking for the track. "Well Alright" follows the above equation with metronome-ish snare taps keeping rhythm for slightly clunky piano over more upper-range vocals. Again, the cerebral lyrics belie the age of their originator. "The End" seems to be the track where Peasant's "vocally-driven, slight instrumentation equation" takes flight. The constant of acoustic strumming paired with a backing electric riff adds fullness to the track and with Peasant singing over himself on lead and backing brings multiple soundscapes to the song, however still in a vein of absolute simplicity.    
A full listen to the album will reveal that the strength of Peasant lie in the vocals. His upper range is uncanny and raw; there is no nasally straining to reach the octave. Another important facet is the lack of overt instrumentation. Most tracks seem to feature the musicality as a background nuance or to simply keep time. What I feel the album lacks is in arrangement. There are no peaks and valleys, no rises and falls. More a collection of similar songs than an album that wants to convey a particular ethos or tell a particular story, there is no disputing the songs are approachable and even memorable, but the album as a whole is missing something. And something essential. Diversity, perhaps.  
by Chris West
[Rating: 2.5/5]