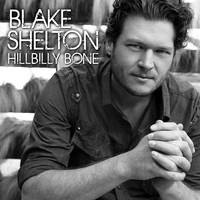 Country crooner Blake Shelton has released a recession-buster of an album in "Six Pak" fashion–a six-track EP that will reach store shelves with an appropriate $6 price tag. The first of two planned releases, appropriately named Hillbilly Bone, is a collection of Southern stereotypes all sung through the contemporary country vein of kitschy-meets-clever lyrics.
Title track "Hillbilly Bone" features Shelton and longtime friend and collaborator Trace Adkins praising all things country cliché over Honkey Tonk instrumentation. The dichotomy of Adkins' lower octave vocals meeting Shelton's range and the continuous country-fried guitar riff work are the standout facets of what can only be defined as a boot stomper of a track. "Kiss My Country Ass" continues the country cliché list and is a sure in for album fave with its penchant for four-letter words. This is the track that will evoke the country fan equivalent of head "banging." One can almost see that after the first utterance of the chorus; out will come the Zippo lighters. Rounding out the album is the balladesque "You'll Always Be Beautiful." With the instrumentation toned down to "demure" the acoustic fingerpicking, pedal steel weeps and backing strings complement the "I love you no matter what" ethos of the track.
Shelton has delivered a sure fan favorite in a less-is-more vein of album making. Though only six tracks spanning 22 minutes, Shelton has spared no effort on writing the ubiquitous tracks that his fans have come to expect from him–the semi-comedic, slightly irreverent, country-fried anthems that are the bread and butter of a fun contemporary country album.  
by Chris West
[Rating: 3/5]