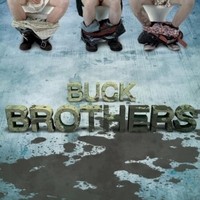 Guinness World Record holding (Most gigs in a 12 hour period) London-based punk powerhouses Buck Brothers are the greatest thing to come out of a Buddhist Disco since pacifist whack-a-mole. Their sophomore effort "We Are Merely Filters" has the same infectious hook-driven melodies with hilarious lyrics filled with far-spanning references and witty wordplay that was featured in Me.
Although, going through several line-up changes over the years and having more drummers than Spinal Tap. The Buck Brothers have found gold in their current line up consisting of the only original member Andy Duke (Vocals and bass), and new members Craig Welsh (Drums and vocals) and Dom Beckford (Guitar and vocals).
"We are Merely Filters" is an all out assault on your brain. Perfectly mixed, it can be enjoyed waiting for the bus with headphones, or even better by going to one of their concerts. You'll find that this Brit pop/punk/rock mix is bound to have you dancing halfway through the first track.
From the bloody brilliant "All I Want To Do" with its mantra "Life is cool. Religion sucks. All I want to do is dance." To the non-sense "Pop Muzik" that echoes DEVO and The B52's.   Buck Brothers latest is bound to have you screaming "Encore! Encore!"
Stand Out tracks:
"You're so Good, Good, Good you're great" —A chronicle of the downfall of a public figure, its tragic story mirrors the life of the modern celebrity.
"When I Look At You. (All I Think About Is Sex)" With lyrics like "Your love may be king/Your love may be queen/But we're not in a monarchy/And thanks to civilisation Procreation's recreation/We're more than just the birds and bees" how can you not love this song?
"Deeply Shallow"- A comment on modern society, you'll find yourself humming it later on the day.
www.myspace.com/buckbrothers
www.buckbrothers.net
By: Shawn Alexander Roy
[Rating: 5/5]