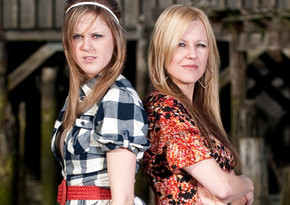 The Jardines are Cherelle and Ajaye Jardine, a mother daughter act from Richmond BC. The idea of having a new mother daughter group in the current alt country music scene is really exciting.
The Cherelle and Ajaye combination is a delicious mixture of street smarts and innocence. Their life experiences are meshed together, giving the listener an ageless body of work to fall in love with. There is some controversy with The Jardines; rumor has it that they are sisters. They are in fact mother-daughter and their bond and love of alt country music sparked the creation of the Jardines. Whatever you want to believe, one thing for sure, Cherelle and Ajaye will win your hearts, or maybe steal them if you're not careful. Cherelle Jardine, has released 4 cds from 1998 to 2006. Her last release Head Traffic garnered great reviews. "Jardine's voice embraces each melody like angel kisses unfolding a revelation" Bryan Baker "Cherelle has found herself a niche in the ranks of Canada's pop music scene" RPM "Confident is an iffy world, Cherelle sings like some people pray" The Nexus. Head Traffic, her last release, was Produced by Ray Roper and recorded in part at the Woodshed, Blue Rodeo's studio, in Toronto with BR's band members. Head Traffic had a hint of country, which would lead the way for the next project to be totally immersed in it. Ajaye is currently a student in her 2nd year of University studying theater. Growing up, she studied piano with the Royal Conservatory of Music. She has appeared in various film and video projects. She plays flute as well as piano and guitar. Ajaye is also a gifted songwriter, inspired at an early age by Cherelle to explore her musical dreams. Their new self-titled album, co produced with Kirk Douglas and recorded at the Sound Lounge in Vancouver, has a total of 11 songs. The song writing has been compared to writers such as Lucinda Williams and Kathleen Edwards, as well as early Sheryl Crow. Songs like "Addicted to the burn" tales of a con woman, "Ruth", an ode to a friend that has passed and the 1st single "Here I come" a fun road song, gives you an idea of the journey you're in for. They've also included a cover of Gordon Lightfoot's "Sundown". To add to the fun, they have really put the Jardine stamp Sundown with a key change on the track, which has been getting mixed reactions. That's what the girls like. The cd is dripping with sexy pedal and lap steel, dobro, fiddle, guitars, keys, harmonica and the sweet vocals of Cherelle and Ajaye. It's a very intimate album, straight from the heart. The Jardines's release date for their self-titled album was at the Ozone, Main Stage at the Olympics Friday February 12 2010.   Now comes all the work, recording is the fun part!!   We have a number of gigs around town until June and are planning a tour to coincide with radio play later in the summer.   Right now, we're just getting the word out that we are "out there".   I think the chorus on the 1st song off the disc sums it all up , "it's a brand new day, brand new hum, a brand new world, baby here I come"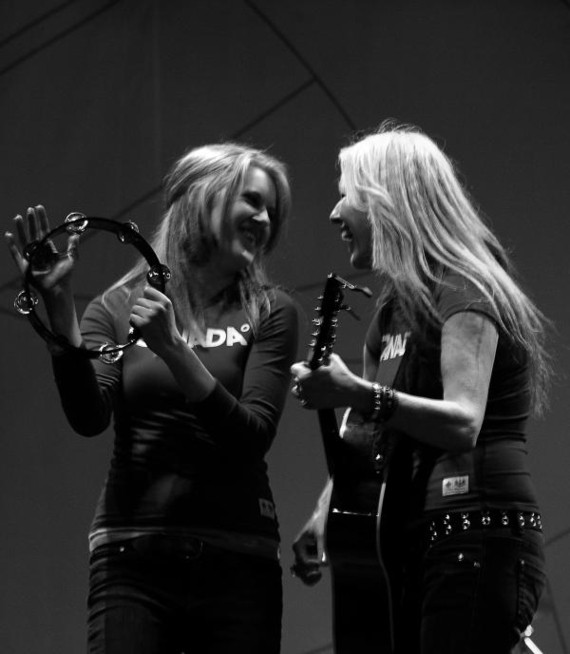 Purchase New Album 'The Jardines' on CDBaby:
SKOPE IT HERE!

Your music has a way of making a person feel good….did you know that?   What do you want people to get from your music?

I'm really happy that people feel good when they listen to our music. It's something that I consciously set out   to do for this cd.   Songwriters write from the place they are in and for me, this is a really exciting time in my life.   I wrote songs that people could listen to and say, I can identify with that,   make them   feel good and for them to have fun with them.   There are a few upbeat songs, like our cover of Sundown by Gordon Lightfoot and then the Facebook song, that is a cute tongue in cheek tune.   At the end of the day, music is about taking you to some other place, I really want people to be able to get there, lose themselves or find themselves in our lyrics.
Who were your biggest inspirations?   When and how did you start making music together?

Both Ajaye and I listen to a wide range of music styles.   For me, I love bands like Kathleen Edwards, Sheryl Crow and Blue Rodeo,   For Ajaye it's difficult to nail down her influences.   Her   musical tastes branch out into all genres of music including, hip hop, electronica, folk, rock, punk, country, indie rock.   Ajaye says "as an artist I find it's extremely important to understand the musicality of the different genres, so I have a large foundation to pull from. When I decided to record another cd, usually it's every 3-4 years (this is my 5th release), I asked Ajaye if she would be interested in putting a project together.   It's the 1st time that we had worked together, but it was perfect timing.   Ajaye had been honing her musical skills for years and is now ready to be on the world stage.   We talked about a music direction and both agreed that an alt country album would be something that we could both dig our teeth into.   We were looking for Producers and reconnected with an old friend Kirk Douglas, I had worked on my very 1 cd with back in '95, so we agreed to work together and now we have this really cool cd and as Ajaye says, "the sky's the limit"
The Jardines "Here I Come" MP3:
SKOPE IT HERE!

Tell me about your new CD and any upcoming tour or project plans?

We brought in some really great musicians on the project, Mike Sanyshyn, Ricky Francisco, Rosie Carver, Nathan Shubert, Doug Liddle, Scott Paulley, Marc Gladstone, Mike Flunkert and Kirk Douglas.   The cd was recorded August to October and we purposely had it ready for February 2010,.     We had our 1st   gig booked at the opening ceremonies for the Olympics in Richmond BC-The Ozone main stage, so released the cd there, for the world.   Now comes all the work, recording is the fun part!!
For more information:
www.thejardinesband.com
www.myspace.com/thejardines
www.facebook.com/thejardinesband
www.twitter.com/thejardinesband
www.cherellejardine.com
By Diana Olson – diolson05@yahoo.com