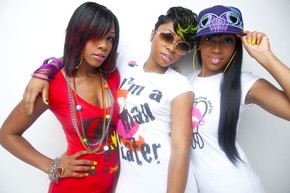 There is definitely no "i" in "team" for the ladies of Krave. The ATL trio, consisting of Chanel Ross, Jasmine "Jazzy" Kearse and Shanquilla "Shan Q" Robinson, have been inseparable since high school, where they not only hung out together, but all shared one major similarity.
"We all had the same dreams —to be singers, dancers and writers," explains Shan Q. "We started a little clique, went to every talent show and every party and started doing talent shows and different showcases."
Their thirst for hittin' it big got the attention of Upfront Megatainment CEO, Devyne Stephens (who has worked with the likes of Akon and T-Pain) in 2006. Stephens, a powerhouse of an executive, started getting the ladies trained and ready for the world.
"Devyne came up with it," says Chanel, on the name 'Krave'. "He funked it up and put a "K" in front of it…it means desire. To us it means respect, female empowerment…that's what Krave is about."
 
As soon as Krave began working with Stephens, the grind began. A daily strenuous schedule includes workouts in the gym, vocal warm-ups and writing records at The Complex, a 7,500-square foot building known as a "one-stop shop" that has a hair salon, gym, etc…all the tools an artist needs to polish their craft.
 
"He (Stephens) was very open and very hands-on," Jazz says of the instant relationship Stephens had with his new artists. "We're in constant development."
 
The schedule continues on into the wee hours of the morning (sometimes they're in the studio until 3 a.m. and are back at it at 10 a.m.), with the ladies working on their fan pages such as MySpace and Facebook, and their tour pages.
"The music industry is a nightlife business, night is when we really get into it," Chanel reveals. "We love it. It gets hectic — we have a busy schedule (and) things get thrown at us, but we love it, that's what we wanna do."
 
The hard work is definitely paying off, as Krave is finishing up work on their debut album, which has no specific release date as of yet, but will definitely be this year.
Described as "Ghetto Pop", according to Stephens, the album consists of a beautiful blend of Hip Hop, R&B, Pop and Rock. Standout songs have already hit the nation, including "Go Crazy", featuring Flo Rida, and a remix with Pitbull and Lil' Jon, "Up & Down" with Akon, Nelly and Twista, and a hot dance cut, "Scrub Tha Ground", where Krave definitely hits the dance floor hard.
 
"We come up with our own stuff, we were very creative," Shan Q notes. "We wanna be innovative…we could turn a shoestring into a dance move!"
 
As their debut is their "baby", the ladies have a hard time really pinpointing which is their favorite, but one thing is for sure, they are big on being role models.
 
"'Cuddle' we just recorded a few weeks ago," explains Jazz of the song, which describes a typical situation between a guy and a girl. "A woman might feel pressured, (like) 'lemme give it up quick', but a woman can take control of the situation. Plus, it's cold outside, 15 degrees in the 'A'…I just wanna cuddle, keep me warm!"
 
As the world awaits Krave's debut, the trio continues to work hard as a team, perfecting their dance moves, singing and writing collaboratively.
 
"We're even more powerful 'cause we come together and do it," says Chanel of their group cohesiveness. "Not as individuals, (but) together as a group."
For more information on Krave, visit: www.myspace/kraveworldwide.com.
Author: Erika Y. Gradecki – nextjam359@hotmail.com