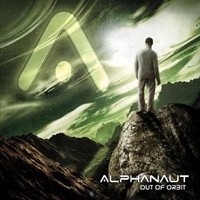 Singer/Songwriter, Marc Alan is the man known as Alphanaut.   This artist is ready for lift off with his latest album, Out Of Orbit.   Alphanaut gives you space jams for 2010 and beyond!   T minus 9…8…7…6…5…4…3…2…1…BLAST OFF!!!
This new record is electro pop madness that will literally blow your mind!   You get a little bit of everything from Alphanaut & company including: retro keyboard sensations & elements of pop, funk, jazz and hip-hop.   You also get Alan's regular guitar player, Chavo Villanueva, to go along with other guitars, upright & electric bass, piano and trumpet textures.   The overall sound is really just a trip to hear as you travel into a galaxy of sound far…far…away.  
The origin of the name Alphanaut comes from a 70s British sci-fi show called Space: 1999.   You definitely get a space-like feel here as Out Of Orbit features pop-driven dance grooves from another dimension.   There is also a fair share of ambience & soundscapes that really make this album wildly intriguing.  
Marc Alan's music experience goes back to the early 90s where he fronted the band November for over six years.   His creative forces and intuitions come alive to the present time of 2010.   The inspiration and driving force behind Alphanaut's defining sound is Brian Eno who is a major influence on Marc.   As the album is set into orbit, you experience futuristic electronic music for a hip & universal audience.  
What I noticed from Alan's vocal style is that he sang in a wildly mysterious fashion.   The weirdness factor is in full effect here as Alphanaut stranges things up a bit with some way-out-there audio effects.   A bit warped at times, but always true & relevant thanks to Marc touching on personal, social & political issues on the recording.   There is a perfect example of this mystifying Alphanaut force on the song, "Don't Hide Away From The Sun."   On this track, there is a much darker presence revealed as Marc Alan sings in a quite scary way.   This installment even comes complete with a demonic-like sounding voice effect that will send chills down your spine.  
In the end, Out Of Orbit is a little too out there in outer space for my taste.   For some, this album may scream just-the-right flavor.   One thing is for certain and that is that this new project is definitely unique & unorthodox.   For more on Alphanaut and his new release, Out Of Orbit, SKOPE out www.planetalphanaut.com.  
By Jimmy Rae (jrae@skopemag.com)
[Rating: 2.5/5]