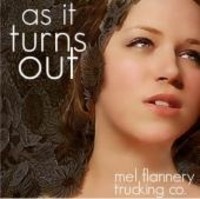 Mel Flannery and her band known as the Trucking Co. are ready to hit the roads and travel a long way with their new release You Know What Do.   This disc is an advance promotional-only EP with five cuts from the forthcoming record, As It Turns Out.   The NY-based group consists of chief singer/songwriter, Mel Flannery along with her usual co-writer, Lee Pardini on keyboard, Matt Aronoff on bass and Danny Sher on drums.   Flannery refers to the new recording as "avant-soul" because stylistically, Mel Flannery Trucking Co.'s sound is in a league of its own.
The Trucking Co. label also stands out to me because of where it originated from.   Mel actually named the band after her distant cousin's trucking company in Wisconsin.   The best part is that there is a deeper meaning and appreciation for this title that Mel Flannery can truly be proud of.   For Mel, the purpose of it all goes back to her Midwestern roots but more importantly is stressing an intense work ethic that Flannery stands by.   So…as it turns out, Trucking Co. signifies where Mel Flannery came from and also speaks in volumes as to who the person she is today.   Maybe you can call this new labor force Hard Working Music for Hard Working People.   Not even into the new project yet and already an impactful start!
As the EP plays, Mel Flannery and her band-mates do not disappoint as they bring you a refreshingly appeasing sound full of excitement.   The musical diversity of styles here is immensely detectable as you pick up on jazz, soul, pop and gospel elements.   Being that Mel graduated from the prestigious Manhattan School of Music as a jazz performance major and is a classically trained singer, it makes sense that this album offers up a refined & sophisticated texture.  
I have to talk about Mel Flannery's voice because it was simply phenomenal.   Her powerhouse vocals and insightful lyrics makes this singer/songwriter one special artist.   I was blown away by how much soul Flannery pours into all five songs on this record.   The harmonies and melodies were an absolute treat to hear and I can't say enough about Mel Flannery's stand-out vocal performance.   I can honestly say that I even picked up on glimpses of a similar singing approach to that of the incomparable Alicia Keys.   POWERFUL…POWERFUL…POWERFUL pipes is evident as Mel delivers the goods to the listening consumers.  
The disc starts up with a song called "Something About You" that is jazzy, sultry and satisfying all in the same breath.   Mel's nicer than nice voice & catchy tone makes me think to myself that there is something about her.   Next up, "We're Still Here", gives you a very soulful jazz number with distinct gospel influences as Mel Flannery sings her heart out.   One of my favorite songs on the new EP is the title track "You Know What To Do" because you really get the sense that Mel Flannery Trucking Co. is just feelin' it.   The entire band is jammin' along and they appear to be in the zone on this track.   It is fun to hear and I really got into the performance myself thanks to their musical enthusiasm.  
My only drawback on this project was that it was only five songs long.   I wanted to hear more to see where Mel Flannery Trucking Co. would take it next.   With Flannery's strong delivery, I wanted to pick up on where and when the next shipment of songs would be coming in.   I guess we'll have to wait for that next drop off, but in the meantime enjoy five terrifically well-done pieces by Mel Flannery Trucking Company.   You won't have to wait long though as the next truck stop is right around the corner.   You are not able to purchase this EP, but get ready to grab your copy of the new CD coming out soon.   For more on this talented group from NY and their upcoming release of As It Turns Out, SKOPE out www.melflannerytruckingco.com.  
By Jimmy Rae (jrae@skopemag.com)
[Rating: 4/5]