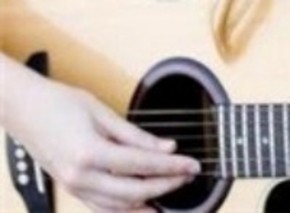 Happy February, my dear readers. In honor of the month of love, I am showcasing women at the virtual club here at Music Up Close with Janie. Though there are so many artists we could bring to you, I wanted to offer you some new emerging talents and a very classy lady that you may not know.
Let me direct you to the huge poster we have here at the club about the 2010 Lilith Fair. Then slip Backstage to meet Tany Du'Shay, the owner and CEO of Rap Pages Magazine. We have Tey In Studio showing us her new album. And, finally, meet me at the SonicBids Lounge for a great meet-and-greet with some very talented and intriguing woman artists representing many different genres.
[Please also look for a special feature in Skopemag.com coming soon about pop singer Peggy Lee and her new re-issues.]
Lilith Fair 2010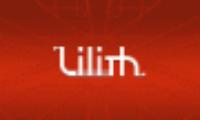 Lilith Fair is returning this year after along hiatus, bringing some of the best women artists to concert stages across the country. A traveling music festival, founded by Canadian musician Sarah McLachlan, Nettwerk Music Group's Dan Fraser and Terry McBride, and New York talent agent Marty Diamond, Lilith Fair first took wings during the summers of 1997 to 1999. This moving musical feast features female solo artists and female-led bands exclusively. Proceeds from the concerts go to a number of women's charities throughout North America, supporting female musicians all over the world. Its first three years raised over $10M.
The initial 2010 line up includes artists who appeared on the original tours as well as a number of emerging, regional performers. Joining Sarah McLachlan this year are Emmylou Harris, Indigo Girls, Heart, Sheryl Crow, Norah Jones, Mary J. Blige, Loretta Lynn, Erykah Badu, Sugarland, Tegan and Sara, Grace Potter and the Nocturnals, and many, many more.
Concerts are being arranged in major cities across the North America and even in London, UK, with more cities being added. Not only can you catch Lilith Fair in LA, New York,   and Boston, but Hartford CT, Atlanta, Dallas, Indianapolis, St. Louis, Minneapolis, and Salt Lake City. Not all artist will perform in every city.
For a complete list of artists and cities, check the Lilith Fair website at: http://www.lilithfair.com  
While you are there, subscribe to the Lilith newsletter and receive a free MP3 of "Angel" Live performed by Sarah McLachlan and Emmylou Harris.
Then, check your local concert venue for details.
Backstage
Tanya Du'Shay: A Powerful Feminine Voice of Hip-Hop
Tanya Du'Shay is the first to admit her success didn't come easy. She attributes it not to luck, but to hard work and principals she learned along the way. Only in her 30s, she has been breaking down doors and crossing barriers since she was able to walk.  
 
A sought-after model, make-up artist, and talent agent, Tanya Du'Shay ran her own music video production company when she was in her late twenties. Still, she wasn't doing her heart's desire: magazine journalism. That came later when her persistence brought her the ownership of Rap Pages, a multi-million dollar music magazine. But her road to this point was not a paved highway; it had a lot of detours and speed bumps.
 
Tanya Du'Shay grew up in Chicago, where her mother was a local fashion designer. Her grandfather, active in city politics, often sponsored big fashion shows at local churches as fundraisers. Tanya and her younger sister were coaxed out onto the runway, while hundreds of people watched, including the Johnsons, the owners of Ebony magazine. It was then that Tanya decided to pursue a modeling career, becoming a Fashion Fair model while still a teenager.
 
In high school, her family moved to California, and Tanya prepared for college by taking electives in business and French. "Those classes actually prepped me for what I'm doing today," she says. "I really encourage young girls to take classes like that because when they get out of school, those are the very classes that you're going to lean on in the job marketplace."
 
After graduating from the University of San Diego with a marketing degree, Tanya switched gears and moved to New York City to actively pursue modeling. She got an agent and started going after every audition she could. Yet, she wasn't landing enough jobs to pay her rent. "I had everything working against me," Tanya remembers. "I didn't have perfect teeth. I have a round Beyonce behind. I'm thick in the legs. I wasn't dark enough. I wasn't light enough." Then, she had a profound insight. "I found you not only have to have good looks, but you have to sell your personality." In other words, she had to make herself valuable to the client.  
 
But, she had to do that in a way that was in keeping with her upbringing. "I have got to sell myself in a Christian way; I can't do it any other way," Tanya says. "I've got to bring out my personality to convince this client, this advertiser, this agent, or this ad agency to please hire me because I can make this product look great. That took a minute to learn."
 
She realized then that what she thought had been her biggest heartbreak as a child–her thick hair—was really her biggest asset. "My mother would have to press it, and I'd be burnt every weekend," she remembers. Yet, her hair led her to regular work. "I ended up working for hair magazines like Hair Care and Essence Magazine." She also worked for Palmers, Johnson, Revlon, and Clairol.
 
Having her face and hair photographed, she didn't have to worry about the other parts of her body that were pleasing but not perfect. She also learned another lesson through modeling. "It taught me to walk into places and stand up tall and be able to speak," she says.
 
Still, modeling was only a part of her life. "People have to see you're valuable," Tanya says. As she began to explore more ways to make herself valuable, she began to look at other skills she had. She knew she could do makeup because she had had to do her own and she had a kit that she had gotten from her days as a Fashion Fair model. So, she approached Ann Charles, an editor, and asked if she could help with the models' makeup.   Ann agreed and even hired Tanya to write articles and find more models. "She gave me a little office, and I'd come in three times a week," Tanya says. "I only made $150 a week, but I was so happy to get that." Tanya became one of the top makeup artists in the country. "I made myself valuable because value turns into money."
 
Soon, Tanya began to find value in others and started a successful production company called Creative Image that cast music videos. Then, another door opened. She got a call from Gary Brewer, an independent film producer for BET, who hired her as a New York correspondent to interview artists she was doing videos with. That opportunity spread Tanya's fame and her expertise.
 
She decided then to move to Los Angeles in 1991and open up a west coast Creative Image. But this move had its own set of rough spots in the road. She found herself eating Happy Meals for the first time in her life while she, her sister, and her sister-in-law struggled to establish her business. It took almost two years, but they launched their business, eventually doing every video in the industry there. She and her crew did all of the casting for the makeup, the hair, the choreographers, and sometimes even the directors. Her company helped launch Vivica Fox, Boys to Men, R Kelly, Mia Long, Teddy Riley, TLC, and Tupac Shakur. Creative Image also handled the extras for John Singleton's film, Boys in the Hood.  
 
Tanya's company became so well known that Rap Pages did a feature on her called, "Women Behind the Scenes in Hip-Hop." Ironically, nearly a decade later, she ended up owning that magazine.
 
But before that, she took a break away from Creative Image and became a talent manager. She formed DL Productions with Martin Littlejohn, the fashion editor for Rap Pages.   "I've done over a million dollars in deals," she says. "That's probably the best thing I know how to do:   negotiate deals."
 
That talent and all of her business sense came into play in 2000 when she approached Rap Pages with an offer they couldn't refuse. She came aboard, not as a writer as she had imagined, but as an independent contractor, who built a subscription and sponsorship base for the magazine.
 
But, even here closer to her dream job, she found that there were snares in the road. She found out after she began work that Rap Pages was owned by Larry Flint, the porno publisher. "I'm sitting at my desk and my phones, and I'm thinking, 'This is not going to go well with my family; we're Christians,'" she says.
 
She prayed every single day as she began work at Rap Pages, coming in at 8:30 in the morning, working through her lunch, munching on a sandwich from home, and only leaving until 1:00 in the morning. She found out that it was very difficult to find sponsors because of Flint's association with the magazine. But she persevered.
 
Unexpectedly, Larry Flint told the staff that he was closing the magazine, and everyone was fired. The following Monday, Tanya called Larry Flint Productions (LFP) and offered to buy the magazine. It had a market value of 1.5 million at the time, and the company offered to sell it to her for half a million dollars.
 
She figured that this offer came to her because, unknown to her through the year she had worked for the company, she had been observed on camera, as all the staff was. Since Flint had been shot many years ago, he had had all of his buildings under surveillance. "They saw the other Rap Pages employees coming in late, leaving early, taking two hour lunches," she says. "That's why when you do something, you never know who's watching."  
Now, though, she had to raise the money to buy the company. She found Ethiopian investors who kept stalling her for a year with promises that she would run the company. When they finally put down $300,000 and signed a note for the rest, promising to pay monthly payments to LFP, they fired Tanya after the title had been transferred to them. Why? "Because they don't believe, in their culture, putting women in charge," Tanya states.
 
She was devastated but took her 10% commission check and spent several months, just hanging with her twin daughters, taking them to Disneyland and Knott's Berry Farm. Then, she got a life-changing phone call from LFP. Flint had started foreclosure proceedings on the Ethiopian buyers for failure to make payments. LFP offered Tanya the company for the balance owed, which was about $175,000. She still had to appear at a public auction, which LFP set for 9:00 in the morning. She remembers, "I knew there was nobody in hip-hop going to be up there at 9:00. I was there at 8:45." And, the company was hers.
 
At the helm since 2001, Tanya says, "I wake up and can't wait to get going….My dream was always to be a Susan Taylor or a Mr. Johnson. Because I think through the printed page, you can inspire people."
 
She also planned to change the image of the magazine. Back in 2006, she said, "I'm going to build this publication. It doesn't have to be dark and gritty. It can be very nice and upscale. I also want to open the doors up for women involved in it." But she realized that it wouldn't happen overnight. "You have to start slow in order to change the world. You just can't just do it abruptly."
 
To Tanya, few music publications are aiming at uplifting young people "They're not trying to empower youth up under them," she said back then. Her magazine is still trying to do that, not just through content, but through opportunity, often employing young women journalists. "I work with them, teaching them the business and having them write articles and features," she said.   "As we are lifting ourselves up to the top of the mountain, we have to pull people with us. We can't just climb by ourselves. We have to take one arm and pull a young person up because they are our future."
 
In 2006, Tanya moved into broader media with a television pilot called "Behind the Print," which documented her re-launch of the publication and was done for VH1. She said then that she hoped to branch out even further, becoming a large media conglomerate.
 
In the meantime, the publishing industry has undergone some dramatic changes, with many major print publications either closing their offices permanently or moving to digital media, online. Rap Pages was the first former print hip-hop magazine to make the move to digital publishing. As Tanya and her staff started learning this new medium and the technology behind it, she decided to brand her company and has launched five publications under the Pages banner: Rap Pages, Rock Pages, Pop Pages, Teen Pages, and Sports Pages. She is also looking into Latin Pages. "Diversity is what advertisers want to hear," Tanya said recently. By offering a platform of five magazines, she can also offer lower advertising rates and still maximize an ad's effective audience.
 
But that isn't all Tanya has been able to do toward meeting her goal as a large media conglomerate. Last Thanksgiving, she had a meeting with some Japanese investors who had been trying to break into hip-hop magazines for a decade. They explained their position to Tanya. "There has not been a fair exchange with Americans regarding hip-hop music," she said. The Japanese are heavily into music and import a lot of American music of all kinds. They download hip-hop in particular and have it on their ipods. But no Americans download Japanese hip-hop–and there is a growing artistic base there for this music. So, in exchange for investing in the Rap Pages experience, they had a three-part request. The first was that Rap Pages would feature one section in the magazine on Japanese hip-hop artists. The second was to start a clothing line, which Tanya's fashion contacts made her ideal for, and with their backing could be very successful. And, the third was to put together a massive hip-hop music festival in a huge stadium in Tokyo, bringing in A-list American artists for the show and showcasing local Japanese talents.
 
In addition, Tanya is also working with an international film festival in Mexico. And, on February 11, she brought in US celebrities to South Africa and joined them as Nelson Mandela recreated the march he made when he was released from prison twenty years ago. Also, she will be bringing in many hip-hop artists on July 18 to celebrate Mandela's 93rd birthday.
 
"Hip-hop has become a universal medium," Tanya Du 'Shay said recently. Her work with the genre in music videos and now with Rap Pages and her international events has allowed her to show the world that this medium speaks in many languages and applies to many different cultures.
 
Today, Tanya is content doing what she has always dreamed of. Though she admits that even in the music industry, women still are still disrespected. "Men will excel much faster than I will," she says. "I have to always break ground. It's going to take me longer, though, but I'm going to get there as well because I see where I'm going. I know what I want to do." And, she's going to do it the right way, with dignity and value in herself and those working with her.
In Studio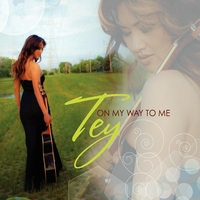 On My Way to Me
Tey
Tey Music
Tey Punsalan's latest musical offereing, a 10-song CD, On My Way to Me, is an oddly produced recording. Tey evokes a raw sensuality both visually on the album cover, on her website, and vocally. It is not surprising then that Tey is a model and budding actress. And, her talents have entertained troops all across the world.
 
But her latest CD has missing something, which is unfortunate since Tey obviously has talent. Most of the album is a sultry croon that I wouldn't necessarily call standard pop or soul singing, but it is enticing.
 
The choice of various guitars, bass, strings, and drums and hand percussion might be considered a mark of elegance, but I really found the hand drum work intrusive and often was counterproductive to what Tey was trying to offer listeners. That's saying a lot from a music lover who is enamored with hand drums. They usually fit almost anywhere. But that may be the problem of the producer of this album. It is not the addition of hand drums per se, but perhaps this particular player. Sean Keenehan is a drummer/percussionist with the metal band Left Setter. He might not have been the best choice for a sultry pairing with Tey. At times, his rhythms often make her voice sound out-of-sync or off key.
 
That said, it works better in the more upbeat tunes, such as "I Don't Wanna Say Goodbye" and "Bleeding Love." But it falls flat on the slower tunes, such as the title track, "On My Way to Be Me" and "Faith."   And "Magic Words" is indescribable.
 
What is ironic is the cut, "Sex On the Beach," a light dance tune that is showcased on Tey's website. On the album, it is not rendered the same way. That song, though frivolous, is well put together on the cut on her website and is a really fun tune. On the album, it becomes another quasi-sensual song that doesn't have much to carry it.
 
Still, Tey is making her mark in the industry and opening a lot of doors for her material. I would hope these contacts would put her in touch with a really good producer for her next album. This talent just needs a much better package to showcase what she has.
 
SonicBids Lounge
Well, I see you're ready for a drink and an opportunity to meet some very tasty ladies. Well, hello, Snake, bring that bald head over here and let me give it a kiss. I see you're honoring our ladies here tonight. He is the best bartender in the virtual universe. Give him your orders and the servers will find us. We've hired all male servers tonight as a special treat to our ladies and, hmm, some of them look like the stepped right out of a bodice-ripper.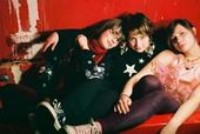 The ladies. Let me not get distracted. At this gianormous booth we have some talented beauties as well. At this end is Sisters 3, three real-life sister from Philadelphia who are offering some really terrific vocal blends (that only sisters can produce), good instrumentation, and songs with something to say. The frontwoman of the band, AnnaChristie who also plays guitar has a vocal delivery reminiscent of Gracie Slick, but it's all AnnaChristie's from there on. Her sisters, Cassandra on keys and Beatrice often on percussion both sing backup. Mike Bardzik sometimes helps out on drums at some venues. They have two albums out, Star Spangled which came out in 2008 and Elixir for the Human Heart in 2005. They have performed live at Mountain Stage, the Philadelphia Folk   Festival, and the National Folk Alliance in Memphis. There sound is more indie folk/acoustic indie rock than their sometimes being pigeonholed into country. There is nothing country about these sisters.
http://www.myspace.com/thesistersthree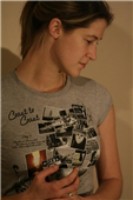 The ladies have really welcomed Katie Marie. Down boys, not the model. This singer/songwriter is from Devon country in England. An accomplished player, she plays guitar, bass, and drums and does a lot of special studio work for a small indie label in the US working with newly signed artists. She's also a terrific lead singer and backup vocalist. She has two full-length albums and three EPs out. Her original songs are well-thoughout and beautifully delivered, offering fresh takes on relationships. Like the Sisters3, her music has been lumped into acoustic or folk. It's really more acoustic indie.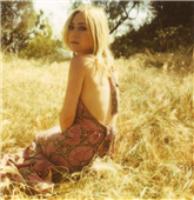 Beside her is Emily O'Halloran who now makes her home in LA. Originally, she grew up in a hippie commune in Australia. She plays keys and Hammond organ on her debut CD, Morphine and Cupcakes. It's a moody album that's more old-style R&B crossed with folk/rock than the folk label she's been given. I was surprised the first time I heard her by the deepness of her voice, a most refreshing change with women artists. It was what I would have expected of a much older performer.
http://www.sonicbids.com/epk/epk.aspx?epk_id=224749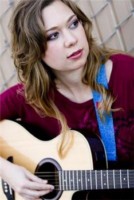 I see that Emily has found fellow Californian, Paulina Logan, who also has a deeper vocal delivery than a lot of women artists. Her blend of folk/pop/rock music is contagious. She has a powerful voice that can belt a rock tune then drop into a sultry croon. She has four recordings out: If You Try (2009), Wallflower (2007), Road Trip (The Jenny Sessions) (2004), and Safe With Me (2003). Putting out a polished guitar and vocal mix with great backup musicians, it's not wonder her songs are in rotation on radio stations throughout the world and many have found homes on internationally-released compilation CDs, including "Bad Girls Don't Cry," which also features Amy Winehouse and Duffy.  
http://www.paulinalogan.com
http://www.sonicbids.com/epk/epk.aspx?epk_id=183487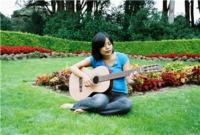 Rounding out the California representation is Frances Ancheta, who is from San Francisco. A Filipina, she was exposed to multi-cultural musical styles that ranged from 80s British new wave/alternative rock, 60s and 70s folk artists, classical/fingerstyle guitar, as well as music from Latin, reggae, and Hawaiian styles. Playing guitar and singing, she often invites guest musicians on bass and percussion, but mostly her style is uncluttered, letting her songs stand on their merits. Her full-length debut CD, Now We're Here, has had air play on independent radio stations around the world.
http://www.myspace.com/francesancheta
http://www.sonicbids.com/epk/epk.aspx?epk_id=197533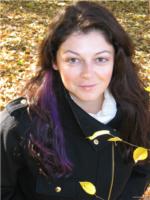 Then we come to Audra Connolly, who hails from Boise, Idaho. Her music has been described as modern-American folk music with strong classical and rock influences. That is probably very accurate, though I would say she leans more toward indie Americana. Her debut album, Dear Friend, on her independent label, Hole Heart Records includes arrangements for drums, bass, bassoon, marimba, as well as guitar. Ironically, there are no keys on the album since she has a degree in piano performance from Boise State University. She used this music training to inform her songwriting and performance experience, by experimenting with alternate guitar tunings and original song forms. The result is intelligent songwriting about self-discovery and relationships. It is most refreshing music.
www.audraconnolly.com
http://www.sonicbids.com/epk/epk.aspx?epk_id=242939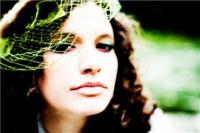 Let's stroll over her to a more intimate table where we have three very different artists. The first is Carla Bean, a Philadelphia Fringe-Pop artist whose performances range from jazz to funk to euro-pop. She can deliver a soulful pop song or a quirky indie rockish tune and then do her own exquisite rendering of a Bonnie Raitt ballad. Playing keys and backed by Rubin Edwards (electric bass and backup vocals) and a variety of rotating drummers, her performances are eclectic and riveting, laden with a richness of voice that is delicious. She is currently promoting her digital single, "Magic Box."
http://carlabean.com
http://www.myspace.com/carlabeanmusic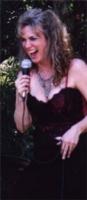 Rubbing elbows with this emerging talent is blues/rocker Cee Cee James from Langley,
Washington. Cee Cee sometimes has the ghost of Janis Joplin slipping out of her pipe, but at other times there's a gospel singer lurking in there or the voice of a hoodoo queen. She's backed up by some phenomenal players: Rob Andrews (slide/rhythm guitar), Dan Mohler (bass), Chris Leighton (drums), and Karl Moffitt (lead guitar). Cee Cee has four discs out Spiritually Wet (1999), a demo of covers (2003), He Called Me Angel (2007), and her latest a swamp-rich bluesy album, Low Down Where the Snakes Crawl (2008).
Cee Cee tours all across the US. Catch here when you can because her performances are gut-wrenching and cathartic. You'll feel like you've been dropped down the deepest, darkest blues hole and then pulled out, changed, transformed, and rejuvenated. I love everything this woman does! It's pure naked soul.
http://www.ceeceejames.com
www.sonicbids.com/funkywhitegirl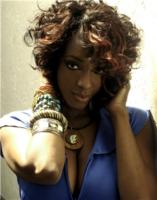 On Cee Cee's other side is Kandace Lindsey from Beverly Hills who sets a stage on fire with her high energy rock and soul performance. She has four discs out: a self-titled album (2000), Soul Exploration (2003), Desert Child (2005), and Phoenix Rising. A highly in demand session singer, she broke out with a bilingual duet, "Ahora Quien," with International Latin Pop Superstar Marc Anthony. That launched several worldwide tours with him and Jennifer Lopez. Though her voice talents can be heard in commercial spots for retailers including Nike, Budweiser, Walmart, and Curves Women's Gym, it is her original work that is making a name for herself. She has a powerful vocal instrument that can moan, belt, or croon.
http://www.KandaceLindsey.com
http://www.myspace.com/KandaceLindsey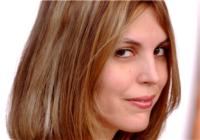 Offering tonight's entertainment for all of our ladies is Unique Monique aka Monique Marissa is from Los Angeles County. I'm just thrilled she's here tonight because she's a performance artist who has been able to craft campy dance music songs with social messages. And for all of our more mature ladies tonight, Unique Monique has agreed to do "Cougar and Cubs" for us. I can't wait. Unique Monique earned a MFA in Theater from Sarah Lawrence College and decided to apply her learning and her talents into social activism via music. Using Electronica/Dance/DJ as a medium, she tackles farm animal abuse, smoking, date rape, and a mirade of other social concerns, usually in a fun way that gets people thinking instead of upset that she's got issues with what they're doing. Oh, are we in for a treat tonight!
http://www.myspace.com/moniquemarissaakauniquemoniquemusic
That's it. I'm going to get Snake to make me one of those pretty but potent drinks of his and find a table to enjoy Unique Monique. Come back next month when we feature world musicians.
Wriiten By: Janie Franz — jfranz@skopemag.com