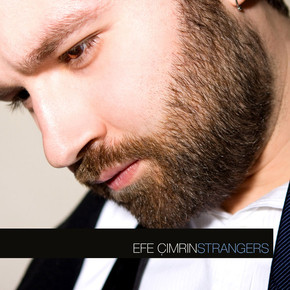 We all need a little upbeat music to get us going this morning. I have just the song from a musician by the name of Efe Cimrin. Efe just released his new single "Strangers" and it is a hit. The upbeat tempo, smooth vocals, and dance influence make this track a sure hit in I-Pods and the clubs. You can give it a listen for yourself in this post and the Turkish EP and Strangers is also on iTunes and Amazon MP3. Join me this week as we talk with Efe Cimrin live from VT and see where "Strangers" came from and so much more!
Stoli: Where are we talking from and what are you up to today?
Efe Cimrin: I am currently in my home studio at Burlington, Vermont, putting finishing touches to my upcoming release.
Stoli: Is Efe Cimrin your real name and what origins are your family from?
Efe Cimrin: Yes, It is my real name. My family is from Istanbul, Turkey – where I was born and raised until I was 17. My last name actually has a special character instead of the "C" which many times I avoid using but on iTunes and Amazon the original is used. Many times people have difficulty pronouncing my full name, so it is pretty certain that your first time trying to pronounce it is going to be a lot of fun ;)
Stoli: You were born in Istanbul, Turkey. What made you migrate to the US and how was the transition to US culture?
Efe Cimrin: I came to United States with an exchange program my senior year in high school, my transition was a bit difficult since I was used to living in a big city and where I was sent to was a small Vermont town.
Although I did fall in love with the green mountains and the space I got to discover myself. Being forced out of your comfort zone really pushes your creativity and before you know you are writing songs, lyrics about things that you didn't really think about.
Stoli: At what age did you start to make music and really define the sound that you want to represent?
Efe Cimrin: I started writing stuff when I was 11 years old, after getting my first guitar. The transition to my current sound started 3-4 years ago when my friend and producer Yagmur Kaplan and I started collaborating. We said all these songs are great but what is next? A lot of traditional Turkish styles were in my work and Yagmur has a very strong film scoring experience, so we said let's try to re-make these songs a bit. Let's try something different.
Efe Cimrin "Strangers" On Soundcloud:
Stoli: You just put out your new single "Strangers." I love that track! Give us a bit of info on how you recorded & mixed the track?
Efe Cimrin: Thank you, I am glad you like it. Yagmur and I were originally working on an album to be released in Turkey. Strangers was actually a song that Yagmur initially came up with the instrumentation which after working on it together morphed into a Turkish song called Sonu Yok (means endless in Turkish) When we were done with 5 songs for the album we got this Eureka moment and we decided to write the English versions. One thing that we had to overcome was distance. Yagmur lived in LA and I was in Vermont. So most of our recording sessions were done separately via telecommuting, sent online and mixed together by Yagmur at his studio.
Stoli: What software did you use to mix the track and is your studio in your home?
Efe Cimrin: I am using Adobe Audition to lay down my tracks and Yagmur has a complex Apple Logic system that he uses for his part of the work.
Stoli: Is that song based on real life and what is the meaning behind the lyrical content?
Efe Cimrin: It is a derivative of a real life experience. The struggle to save a relationship. We all have to at least try one more time, give it another go don't you think? ;)
Stoli: Why did you decide to put out a single as opposed to an EP or album?
Efe Cimrin: As I mentioned earlier my focus was on releasing an album in Turkey, once we started playing with what we have – I decided to release the Turkish EP seperately, and Strangers as a single! I am happy to announce that a new single is also on its way and Yagmur and I are talking about the big picture.
Stoli: "Strangers" is a track that I can see many people remixing. How do you feel about that possibility?
Efe Cimrin: Absolutely, I am a firm believer of music belonging to all of us, regardless of who was able to channel it first. I would love to hear remixes of 'Strangers" and would even consider releasing them alongside the original track if I really enjoy the work.
Stoli: Will fans be able to see you perform live anytime soon?
Efe Cimrin: Yes :) I am in the process of accepting and reviewing applications for band members.
Stoli: What is coming up for Efe Cimrin and where can readers get more from you?
Efe Cimrin: A new single is going to be released pretty soon. We are also working on other new songs. Twitter has made it really easy for me to be in contact with fans so I would definitely check it out for updates. http://twitter.com/efe
I also use soundcloud.com as a platform to release tracks, accept remixes via the dropbox and get feedback!