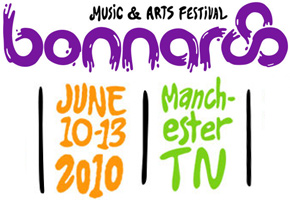 Bonnaroo returns this year with huge names such as Jay-Z, Flaming Lips, and Dave Matthews Band and other "typical" choices as the rest of the line-up is slowly unveiled throughout.

Being called a "virtual event", organizers of Bonnaroo have decided to slowly announce the line-up via Twitter, Myspace, and etc. for the muddy festival's 2010 return to the 700-acre farm in Manchester, Tennessee. The three-day festival will take place in the heat of summer June 10th to June 13th, with tickets already on sale. While the entire line-up will not be known until probably later tonight, so far we'd say this year brings an interesting mix of artists.
Jay-Z will be heading Bonnaroo this year, and also Coachella, which really isn't all that surprising. Other huge names joining him throughout the three days will be Kings Of Leon, Weezer, Pheonix, and a special live cover of Dark Side Of The Moon by Flaming Lips.
While we love throwing our diamonds in the air, we're a little thrown off in some of the festival's odder choices, such as Tenacious D, Tori Amos, Steve Martin & The Steep Canyon Rangers(yes, the comedian), and especially: GWAR. Organizers of Bonnaroo probably don't think being covered in dirt and grime is enough, you might as well be covered in blood and other multi-colored gunk GWAR feels comfortable showering you with.
Confirmed line-up for Bonnaroo 2010:
Jay-Z
Kings Of Leon
Weezer
Flaming Lips
Stevie Wonder
Mayer Hawthorne & the County
Wale
Steve Martin & the Steep Canyon Rangers
Norah Jones
Bassnectar
OK Go
Monte Montgomery
Punch Brothers
Thievery Corporation
The National
John Prine
Dave Matthews Band
Dave Rawlings Machine
Local Natives
Dropkick Murphys
Manchester Orchestra
Jeff Beck
Jay Electronica
The Postelles
GWAR
She & Him
Jimmy Cliff
Tokyo Police Club
Kid Cudi
Japandroids
Dr. Dog
Baaba Maal
Neon Indian
Zac Brown Band
Carolina Chocolate Drops
Rebelution
Damian Marley & Nas
Needtobreathe
Tenacious D
The Black Keys
Jamey Johnson
They Might Be Giants
The Entrance Band
Lotus
Lucero
Isis
Miranda Lambert
Kris Kristofferson
LCD Soundsystem
Brandi Carlile
B.O.B.
Daryl Hall & Chromeo
Edward Sharpe & the Magnetic Zeros
Blues Traveler
The Temper Trap
Michael Franti & Spearhead
Dan Deacon Ensemble
Les Claypool
Miike Snow
Against Me!
Calexico
Hot Rize
Blitzen Trapper
The Gaslight Anthem
Mumford & Sons
Trombone Shorty & Orleans Avenue
Baroness
Julia Nunes
Here We Go Magic
Tinariwen
The Disco Biscuits
Diane Birch
Nitty Gritty Dirt Band
Clutch
Tori Amos
The Melvins
The Dodos
The Dead Weather
Rise Against
Deadmau5
Martin Sexton