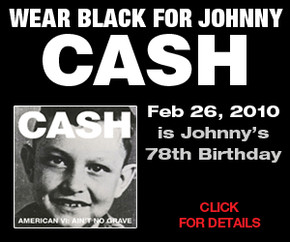 Help celebrate what would have been Johnny Cash's 78th birthday on Friday, February 26, the day that his final studio album, American VI:   Ain't No Grave (American Recordings/Lost Highway), is officially released, and Wear Black for Johnny.
Fans from all over the world are being invited to help celebrate Johnny Cash's life, music, and the enduring voice he gave to the poor and beaten down by posting pictures of themselves wearing black on February 26.  
More information as well as links to join the Facebook event (to post photos), follow on Twitter, and to hear the first single, "Ain't No Grave," can be accessed:  
Participants will be eligible to win a copy of the new American VI: Ain't No Grave, plus his amazing 5-CD box set, Unearthed.   The lucky winner will be chosen at random on March 12, 2010.
So, help celebrate the Man in Black's birthday and Wear Black for Johnny on 2/26.