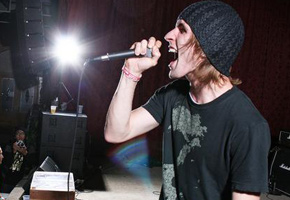 Unfortunately, it's not Anthony Green. Photo by Steven Jay.
Last week we mentioned how Chiodos were entering the studio with their new singer filling in Craig Owen's huge shoes. Said singer's identity would not be revealed until their performance at Bamboozle in March.
Well, it looks like someone couldn't keep the secret to themselves for that long. The new lead singer of Chiodos is Brandon Bolmer of Yesterdays Rising.
Yeah, we draw a blank too. While at first their choice may seem a bit out there, things start to make a little bit more sense when you consider Bolmer also filled the shoes of Tyson Stevens from Scary Kids Scaring Kids. Regardless of whether or not he's "unknown", what matters most is that they were able to find someone that was actually capable of matching Owen's incredible vocal chords.