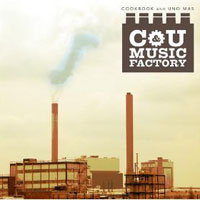 C&U Music Factory is an album that demonstrates Cook and Uno Mas's flexibility. There are edgy rock chords, swirling guitar melodies, 808 beats, turntable acrobatics and RnB grooves that amount to an incredibly varied sound. One theme does permeate the album and that is the clear message that these rappers stay true to their craft and won't quit the rap game no matter how hard it gets. Possibly a little heavy handed on some of the indictments against the industry and "sell-outs" but this goes with the territory — underground credibility can come off judgmental.
Hip-hop means a lot to Cook and Uno and they are quick to pay homage to the art that affords them the opportunity to express themselves. They point this fact out in lyrics like "I see freedom in the form of a rhyme". They are honest lyricists who set out to express themselves in a natural way, not putting on a front, but being themselves. They share their hard times, relate their anxieties and their struggles and how they are trying to be the best to their family.
Production is solid and they mix up the vibe a lot on the album.   On "Set It Off toThis" there is this guitar shred sample with the West coast lyrical swagger. They drop some interesting vocal samples on "When You Rock & Roll" where raps such as 'In the club selling their soul' point to the pitfalls of the industry and the female vocals sing 'how much can you get for your soul / when you rock and roll'.
"LA Times" has the 808 beat, and is about life in L.A. with fine focused observations sharpened by DJ Rhetmattic whiplash turntable scratch. "Our Life Sounds Nice" is introspective and mature, a rapper trying to make it and provide for his lady and his kids. "Never Gonna Let You Go" features a sample with sped up female vocals, and is a statement on not giving up even in the midst of hard times and multiple obstacles. "Just Us" has intricate guitar solos, and Raquel Rodriguez's sweet voice.   "Where Ya Been All My Life?" is a sweet song with airy and carefree vocals, with an upbeat and positive instrumental vibe. Music Factory is a solid effort that cements their status as underground mainstays.
By Shaun Flagg
[Rating:3.5/5]