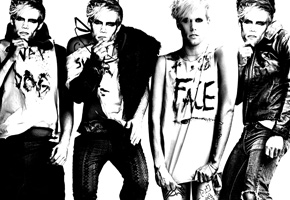 Could this possibly be the name of the filthy glam-rockers' major label debut album?
Having just recently released their self-titled EP, Semi Precious Weapons seem more than ready to unleash filthy rock n' roll upon the world with their forthcoming debut album on a major label(their first titled We Love You released in 2008 when the band was still destroying tiny bars and dancing with Kate Moss).
While there hasn't been much official info released by the band about the album, a recent Twitter post via the band's own leggy frontman Justin Tranter reveals the possible yet believable name of it: You Love You.
Besides that, all we know is that the album will feature re-recorded versions of their previous singles "Semi Precious Weapons", "Magnetic Baby", "Rock N' Roll Never Looked So Beautiful", and possibly "Her Hair Is On Fire" on a deluxe edition of the album.
We would have also accepted "I Can't Pay My Rent, But I'm Fucking Gorgeous" as the title too, but You Love You works despite its grammar butchering.
If you haven't already, you can read the feature we did on the band in December