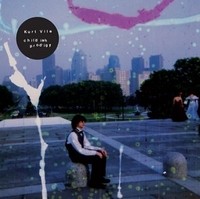 When Neil Young gets brought up in conversation, rare is the person who wouldn't describe his sound as "Huge" or "Loud." And while Kurt Vile does indeed get his murky, Young-influenced groove on with a penchant for an unadultered wail on Childish Prodigy, it's the lo-fi approach which Vile takes that sets himself apart from his forefathers. This is as much a blessing as it is a curse. Vile may be a hero for a generation starved for chunky and wandering Young-esque jams. But his lo-fi approach fails the songs at times; no one wants Vile to sell-out with a producer of Bob Rock's capability less than this writer, let's make that clear. However, before Vile makes an attempt to flush out his sound some, the nine tracks on Childish Prodigy often come out sounding more fuzzy than they do, well, killer.
But let's not harp on the negatives. After all, there's more than a few positives to go around on Childish Prodigy. Vile's ability to let his songs breathe and walk their own path is one of his greatest assets. Tunes like "Blackberry Song" and "Dead Alive" could have easily been contained into a simple, rippling two minute indie pop throw aways. Yet Vile allows his fingers to pick their way into bold and brazen territory. And "Freaktrain," which combines a pounding and catchy, 80's-influenced beat with Vile's trademark wail and howl is the kind of sonic shot in the arm indie rock needs.
Many have claimed that Vile's sound on Childish Prodigy is much more polished than on previous releases. While that be true, Childish Prodigy doesn't so much find common ground between the two sides of the coin as much as it does leave a confusing impression on listeners. Vile, clearly one of the better songwriters alive today, will likely find his footing as a solo artist soon enough. And listeners will wait, very, very intrigued for the results.
By Joshua Kloke
[Rating: 3.5/5]