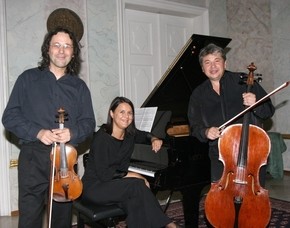 New York Concert Review – Amael Trio  at Carnegie Hall: Amael Piano Trio is a very fine group. The string player's intonation is impeccable, their tone is rich, beautiful and homogeneous and can vary from floating delicacy to vibrant full bodied sonorousness… A large multi-national audience rewarded the performers with warm approval and prolonged ovations…
The Amael Piano Trio was founded in October 1999 by three accomplished artists, who, individually, have backgrounds as prominent soloists and chamber musicians.
All three artists, the pianist, Tatjana Ognjanovic, the violinist, Volodja Balzalorsky and the cellist Damir Hamidullin, have performed internationally as guests of numerous music festivals, and as soloists with many orchestras. They have also created multiple CD's and have made extensive live and archival radio and TV recordings throughout Europe and in the USA and Asia.
The trio has ten successful performances in a variety of venues, concert series, and festivals including a very successful performance at Carnegie Hall in New York, Forfest Kromeriz, CZ, Gasteig in Munchen, Bled Festival, Pucisca Summer Festival,   Bol Summer Festival, performance at Cankarjev Dom (the most important cultural center in Slovenia), the International Festival of Contemporary Music in Radenci, Summer Music Festival of Hvar (Croatia), International concert series of Zemono, The Spectrum Festival   and others.
The Amael Trio has achieved the status of being among the most sought after chamber groups in Slovenia. In addition to performing known traditional trio literature from various style epochs, the trio is also dedicated to performing contemporary works, and to the promotion, internationally, of Slovenian composers of piano trio literature.
They plan to schedule concerts and perform in many different countries, make several Cd's, and expand their repertoire, exploring the works of lesser-known composers and performing new works created for piano trio. They also plan to commission and record new works; some renowned Slovenian composers have already decided to write especially for their trio.  
TATJANA OGNJANOVIC – Piano
Tatjana Ognjanovic, one of Slovenia's leading pianists, has performed at International Music Festivals and given highly acclaimed recitals in 16 countries throughout Europe, as well as in Malaysia and Singapore. She has appeared as soloist with many orchestras, interpreting piano concertos by Mozart, Beethoven, Mendelssohn, Schumann, Rachmaninov, Scriabin, and Prokofiev.   She has made many CD, LP, radio and TV recordings, embracing a wide repertory of music from the baroque era to the contemporary. Her growing interest in chamber music has resulted in her collaboration with pianist Bojan Gorisek, and more recently, the increasingly acknowledged Trio Amael.   Tatjana Ognjanovic is a prize winner of national, as well as numerous international piano competitions such as the Cidade do Porto in Portugal (1991), Maria Callas in Athens, Greece (1992), Jose Iturbi in Valencia, Spain (1992), and Premio Jaen, also in Spain (1993). The daughter of two professional opera singers, she began her music education at the age of four, studying for 14 years with Darinka Bernetic. She continued at the Academy of Music in Ljubljana with Dubravka Tomsic, and furthered her studies with Hans Petermandl at the Hochschule fur Musik in Vienna, and with Viktor Merzanov from the Tchaikovsky Conservatory in Moscow. In addition to her artistic performances, she has been teaching at the Academy of Music of the Ljubljana University since 1993.
VOLODJA BALZALORSKY – Violin
Volodja Balzalorsky is an internationally acclaimed concert violinist who has performed in many international music festivals and concert series throughout Europe, and North America. Recently he was awarded with several International Music Arards, such as: The Inland Empire Music Award Music Award 2008 – Best International ArtistThe Ontario Independent Music Award 2007 – Best International Artist, The Canary Island Music Award   2007- Best Interpretation, Julij Betetto Music Award 2006 and Nomination for The Los Angeles Music Award 2007- classical.   Critics have described him as an artist with a sensitive, intelligent and intuitive gift of interpretation, a polished technique, and a rich, full tone.   Balzalorsky is particularly active in the field of chamber music. He performs with several well known international groups and ensembles. Critics comment on the degree to which he is able to develop and maintain unity with his musical partners in this milieu, presenting an exceptional harmony of ease and authenticity of performance. He has made extensive live and archival radio and TV recordings in various countries. In December, 2004, four CDs were released as part of his "LIVE" Collection, with 5 more planned for release on the CANTABEL label, with added releases by EROICA, a well known US Label that features great classical artists worldwide. Balzalorsky considers teaching an important and complementary part of his artistic career (Violin class at the Music Academy of University of Ljubljana), and regularly gives master classes in Croatia, Slovenia, Italy, Great Britain, and the United States. After graduating from the class of professor Igor Ozim at theHochschule for Musikï in Cologne, Germany, he continued his studies in Moscow with Galina Barinova at the Conservatorium P.I.Tchaikovsky, with Josip Klima at the Music Academy in Zagreb, where he received his Master's Degree, and with the eminent Czech violinist Josef Suk at the University Musikï in Vienna.
DAMIR HAMIDULIN – Cello
Cellist Damir Hamidulin is a virtuoso soloist and an excellent representative of the famous Russian cello school.He is first solo cellist of the National Opera House in Ljubljana (Slovenia) and a member of the Amael piano trio.   He performs throughout Europe as a soloist, recitalist and chamber musician. He has played as a soloist many times with the Kazan Philharmonic and with other symphonic and chamber orchestras in Russia and in Slovenia. He plays all the famous concertos on his instrument: Haydn, Dvorak, Saint-Saens, Schumann, and Tchaikovsky. He has also been guest artist at various international festivals – Festival Groblje and Festival of Contemporary Music Radenci in Slovenia, Festival of Contemporary Music Kishinjev in Moldavia, Festival of Kazan in Russia, etc.
What brought the three of you together?
Amael Piano Trio: In the first line love of chamber music. The most beautiful fact "being a musician" is to play with others together. We are all classicallly trained musicians. Tatjana finished Music Universities in Ljubljana in Slovenia and in Vienna in Austria as a pianist, Damir finnished his studies as a cellist in former Soviet Union in Kazan and than at the famous Gnesin Institute in Moscou, (myself) Volodja finished his studies as a violinist at the Music Universities in Cologne in Germany, in Moscow at the famous Moscow P.I. Tchaikovsky Conservatory and at the Music University in Vienna.   All three of us played a lot of chamber music during the period of studying. Later all three of us performed also as   soloists and members of some other chamber music ensembles.
 
The most important reason to begin to play together as Amael Piano Trio was situation, living and working all three of us in Ljubljana in Slovenia. Damir comes from Russia: He was invited to come to Ljubljana as a principal solo cellist of Slovenian National Opera Orchestra, Tatjana and me, we both got positions as professors (Tatjana for piano, me for violin) at Music Academy of Ljubljana University. So, this was good start-point to begin to work together.   After some months of playing and rehearsing together, and feeling that our temperaments and sensitivity for music are very similar, we decided to work very intensive and regularly together. In October 2009 we celebrated 10 years of playing together – concert in Munich.
 
Tell me about your current cd or upcoming projects and concerts?
Amael Piano Trio: Recent activity from October 2009 on…It is important to mention that we   perfrom music from Mozart, Haydn and Bethoven on … to very modern — avantgarde compositions.   As I already mentioned, in October we had a concert in famous Gasteig in Munich, Germany, where   we celebrated 10th Aniversary of ensemble, performing Alfred Schnittke and Beethoven:
In the meantime our Cellist performed Dvorak Cello Concerto with National Opera Orchestra in Ljubljana, Slovenia (the end of October); Tatjana recorded as a soloist with Slovenian Philharmony: Concertino for Piano and Orchestra written by Slovenian composer Igor Stuhec; Volodja performed Brahms Concerto with Cheltenham Symhony in England, as well recital performances in London — The Red Hedgehog Celebrity Concert Series. He has been also awarded with his 5th Music Award in the past three years: The Hollywood Music in Media Award — Best Classical (Nov 19 2009):
More info about Volodja's music awards:
Now in January we are working on some new compositions written for us (like Trio by Slovenian composer Igor Krivokapic), and working on additional program for performances in 2010: in March in USA at SXSW Festival, in April in Munich, in June in San Marino, in July in Bergen, Norway, in October in Rome, Italy and Belgrade, Serbia.   See more fix performances also in 2011 under Calendar at http://www.sonicbids.com/AmaelPianoTrio
In March is planned our new album release "Amael Trio Live From Spectrum Festival" with works by Schnittke, Piazzollla, Brahms and Skerjanc. We are invited for showcase at SXSW in March, which will feature only first performances — premiers) in USA: three Slovenian composers (Skerjanc, Lazar, Krivokapic) and two Amarican composers (Steven Mento and Hugh Levick).
What do you want your listeners to get from your music?
Amael Piano Trio: As we already mentioned, we perform music from Mozart, Haydn and Bethoven on… to very modern — avantgarde compositions. We don't perform our own works. Our mission is to create music as interperts. This means as good as possible to discover main idea of the composer who wrote the composition we perform, but at the same time to perform this composition with our own ideas, feelings and expressions. There is a lot of space for our own creativity.
We feel very excited to discover great new works, especially works written by composers of today from the whole world and to present this music to the audience to our listeners.   That is why we work closely together with many composers in various countries, to study and perform their compositions.   We regularly perform at various international festivals of modern music.  
In 2009 at Forfest in Kromeriz, Czech Republik, in 2010 at Mark Fest in San Marino and Festival Nuovi Spazi Musicali in Rome. So long the music is only written in scores is "dead music". To perform it, means in the first line to bring music to live. There are unlimited ways how to do this. For us is the most important to bring the music to the audience in concert — live. After our opinion there is no studio recording, which can replace live concert atmosphere. Being on the stage and to feel contact with the audience makes strong inspiration and also a place for improvising, even if the music is written. That's why we prefer to publish live recordings.
www.amaeltrio.com
www.myspace.com/amaelpianotriomusic
www.facebook.com/amaelpianotrio
www.reverbnation.com/amaeltrio
Written By: Diana Olson – diolson05@yahoo.com