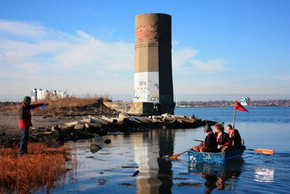 Boston trio State Radio has unveiled an epic music video for their punk-fueled song "Knights Of Bostonia," featuring a battle at a historic fort that dates back to the Revolutionary War, an army of State Radio fans, and a retired Boston Police horse. The track is from the band's latest release, 'Let It Go' (Ruff Shod Records).
Watch the video for "Knights Of Bostonia":
[youtube 2xWltmskEAM nolink]
State Radio is currently headlining their "Let It Go: Lefty Rides Again" tour. Tom Morello joined the band onstage to perform "Gang Of Thieves" during their show in LA earlier this month.