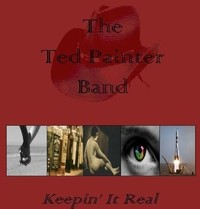 This review marks another first in my tenure at Skope Magazine in that this is the first time I have reviewed back-to-back country acts. Former U.S. Army infantryman turned country crooner Ted Painter has released Keepin' It Real, a five-track EP of contemporary country-fried tunes that run the thematic gamut from kids coming of age to contemplating the economy while imbibing bar side.
The album opens to "We Were 18" a country equivalent of "Jack and Diane" or Joel's Brenda and Eddie from "Scenes From an Italian Restaurant." The "how we met" lyrical matter, agro acoustic strums and Painter's gruff vocals make this track the clear album standout and saves the best for first. "Drink A Lot" thematically covers current financial and economic events over Painter's ubiquitous jangle country strums. "She Knew" slows the album pace with its demure backing guitar and tells a tale of a philandering husband and a vindicated wife. While Painter tends to spin a clever yarn throughout the album, this is perhaps his songwriting ability at its shiniest.
While the musicality is put forth in a simple, straightforward manner, the real strength of the album lies in Painter's lyrics and vocal delivery. Several of his awards echo this sentiment. And while some of the lyrics come across a bit campy ("Drink A Lot", "I Wanna See You Naked") there is a serious vein of thinking and cleverness to the tracks. More so than any other aspect, the notion that Painter is enjoying his newfound profession is apparent from track one to five. Though brief, this simply put, is just a fun album.      
By Chris West
[Rating: 3/5]