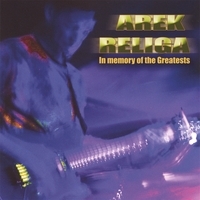 Non-stop instrumental music at its finest is what you get here from the 13-track CD, In memory of the Greatests.   The Polish guitar sensation, Arek Religa, is the man of the hour as he wrote, arranged, produced and performed all the songs on the disc.   Religa even engineered, mixed and mastered the entire album.   However, the real meat and potatoes of this project lies within the masterful guitar playing of Arek Religa.   This record not only serves as a true testament to Arek, himself, but also gives us a direct reminder of the great players before us.   Remembering sensational virtuosos of our time is the purpose here as Religa honors these musicians & their talents.   What you have here is a wonderfully put together composition that serves as a terrific tribute album.   Family also hits a high note with Arek as he dedicates this entire recording to each and every one of them.
The CD offers an array of stylistic genres from instrumental rock & jazz-fusion to blues & even some Latin flavor thrown in.   Religa certainly wasn't alone during the making of this album as he had an excellent band to back him up.   You have Tomasz "WW" Wywrot on keyboards, sax, piano and flute, Jacek Berlin taking care of percussion/drums as well as Jurek Kusiak, Pawel Pospieszalski & Konrad Stankiewicz.   One member that really stood out to me, besides Arek, was Wywrot due to his exceptional saxophone & keyboard-playing skills.   Tomasz truly added a nice dynamic to the overall effect of the record.   Without question though, Arek Religa & his trusty guitars will captivate you like never before.
In memory of the Greatests starts up with a beautifully composed number titled "Hope" that delivers a cinematic & orchestral sensation.   Next up, "Beyond horizon", gives you a nothing-but-respect feeling for the pure & rich guitar sound being heard.   You get phenomenal guitar playing right out of the gates from Arek Religa and I have to say that I was highly impressed.   Track three, "Viva Carlos!", honors the great Carlos Santana by blowing your mind away with the almighty guitar.   This song offers a very cool style while also supplying that WOW Factor to the fans.   "Island of my dreams" actually gives you that peaceful, island-esque feel where all musicians really seem to be bringing this song to life.   Track five, "Next step to the end", comes heavy with jazz-fusion mixed with a cloud of atmospheric conditions in the background.   These elements really seemed to brighten up the song and add something special to the mix.   This number eventually turns into a cool rock joint with symphonic elements in the back.   "Into the future" gives you a positive outlook along with a breath of fresh air coming from Arek and his team.   "It's going to be better" comes with a quick, up-tempo installment that offers a lot of zip while "On the road" serves up hypnotic keyboard sections.   On the ninth track, "And the road goes on", you experience rock & blues colliding as one.   Track 12, "By the paradise", relaxes your body, mind & soul with an easy-going melody to enjoy.   The record concludes with "In memory of the Greatest" that is special in its own right because it is dedicated to the memory of Arek's parents, Halina Skalska & Jan Religa.   Here, you will go on a musical journey through the vision and through the chords of Arek Religa–Enough Said!
After it is all said and done, I have to say that Religa is one hell of a guitar player with incredible insight.   Everything I heard seemed to be so perfectly balanced and well-arranged, which is why I feel this musician/composer/arranger deserves much props for In memory of the Greatests.   This proves why no singing is necessary as Arek lets his fingers do the talking and the chords & strings do the singing.   For more info on this exciting artist, SKOPE out www.arekreliga.com.  
By Jimmy Rae (jrae@skopemag.com)
[Rating: 4/5]