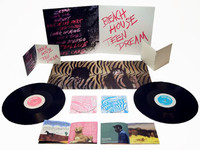 Ever had the feeling that you're not sure if you're awake or dreaming? From the moment you set eyes on Beach House's latest release, Teen Dream, something about it seems intangible. The cover art's pastel zebra striped imagery has a certain unworldly feel to it, washed out to the point of near-nonexistence. Seldom does album artwork grab like this, but one may find oneself tilting/turning this album, staring at it like one of those 3-D magic eye deals. Kinda gives you the feeling that there just might be more to this thing than meets the eye. And there is.
Teen Dream is the third full length album from Beach House, and is their debut on the Sub Pop label. For this album, the duo, comprised of Victoria Legrand (niece of French composer Michel Legrand) and Alex Scally, holed themselves up in a converted church in upstate New York with producer Chris Coady to bring to life a clear vision of dream pop. And to that end they were a success. Teen Dream presents a new direction for Beach House, a lighter, brighter tone to their unique sound. Fans won't be disappointed in the newly inspired duo, however, as the essence is fundamentally the same.
The album opener, "Zebra," is a gentle transition from staring at the album cover to getting lost in the music. It's true to the sound of the two former albums, but tinted by a hope of things to come.
"Norway" captures the duo's new spirit in a blissfully melodic tune. It's a great example of how Teen Dream benefits from solid producing by Coady, which doesn't get in the way of the sound, but helps it reach its full potential. "Walk In The Park" and "10 Mile Stereo" are two of the most compelling tracks on the album, soaring to new heights in this airy offering. "Used To Be" is alternative recording at its best, a daydream song that builds into an indie anthem accented by Legrand's breathy vocals and of course, tambourines. Tracks like "Silver Soul" and "Take Care" are reminiscent of their eponymous debut, but with a sharper, cleaner sound.
It has always been undeniable that Legrand and Scally are on the same musical wavelength, but on Teen Dream that connection somehow seems more perceptible, more real. As a result, the two have conceived a sweet musical reverie. And in the end, this is one dream from which you won't want to wake up.
Review By: Alex MacDuff
[Rating: 4/5]