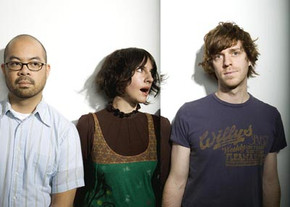 After an extensive feature in the Huffington Post and their song, "High Wire" currently soundtracking the latest Samsung ad, Los Angeles art-rock trio, The Happy Hollows, are set to release their debut record, Spells, next week via Autumn Tone Records.
Produced by David Newton (Mighty Lemon Drop), Spells, combines innovative structures, gritty ambitions and front woman Sarah Negahdari's eccentricities, to create music that remains a kaleidoscope of their unconventional past and current Los Angeles aesthetic.
Preview the record with the first two singles below!
"Faces":
"Silver":
Bonus! – Listen to "High Wire"
[audio:http://skopemag.com/audio/The Happy Hollows_08_High Wire-clip.mp3]
Faces
Death to Vivek Kemp
Silver
We Will Find You
Lieutenant
Father Time
Monster Room
High Wire
Turtle and Hare
Delorean
The Stein
Tambourine
A Man, A Plan, A Canal
Second Lieutenant