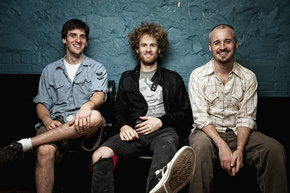 Boston's State Radio kick off their winter 2010 tour on January 13, in support of their latest album, 'Let It Go' (Ruff Shod Records), a fiery, inspired collection of raw rock and roll.  
"Calling All Crows" is a stripped-down call to arms led by frontman Chad Stokes, propelled by a driving reggae beat. Chad sings, "We are calling all the crows/They comin' up slow/It's gonna be a show down/Said the rebel to the revolutionary, 'come with me.'"
Listen to "Calling All Crows":
The band is known for their social activism and will participate in pre-show community service projects (known as "Pre-Show Action") prior to several shows on the tour, via their humanitarian organization, Calling All Crows.   Calling All Crows recently raised $100,000 for Oxfam America's Darfur Stoves Project.