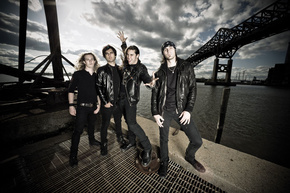 Las Vegas rockers TAKING DAWN have just released a hot new video for the song "Time To Burn", the first single off of their debut album, Time To Burn, in-stores on January 26th via Roadrunner Records. The clip includes everything from hot chicks to break dancers and even a hilarious spoof on the infamous Kanye West VMA incident.
The members of Taking Dawn grew up surrounded by the glitz and glam, the bright lights and big city of constant vice. This Las Vegas upbringing helped shaped the band into what it is today: a rock 'n roll time bomb just waiting to explode on an unsuspecting public with its Roadrunner debut, Time to Burn.
As the band prepares to release their debut offering, they are hitting the road with labelmates Theory of a Deadman and guests Halestorm, and Adelitas Way.