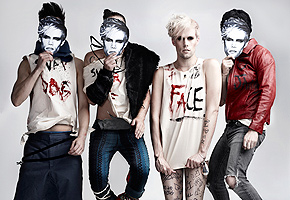 Filth, sex, and glamour. Those words can sum up what New York City's-own Semi Precious Weapons are all about.
Led by their leggy frontman Justin Tranter, Semi Precious Weapons are a spitting image of the long gone glam rock scene, and musically tie in the sound of that flashy scene with a garage-rock sound. The band definitely bring the image with their outrageous outfits, especially Tranter's lavish make-up and high heels, and there's not a single music video where the band isn't surrounded by near-naked girls. Musically, their songs carry a raunchy, rock n' roll feel to them with raging guitar solos, and lyrics that your elders would probably detest to("As I lay me down to sleep / I pray the lord will pop my fucking cherry!"). Essentially, Semi Precious Weapons are the kind of band that parents in the 60s/70s were afraid of.
However, on stage is where the band can truly shine. Filled with crazy stage antics between Tranter and band-mates Cole Whittle, Dan Crean, and Stevy Pyne, Semi Precious Weapons like to do everything they possibly can to put on one of the best rock shows around. This involves pouring champagne in the mouths of the crowd, inviting naked girls on stage, changing clothes on-stage, and climbing stuff. They definitely like climbing stuff.
With such an interesting live show, it's no surprise to see that the band appears on the bill for Lady Gaga's visually-stunning Fame Monster Tour, apart from the fact that the two are friends and have been performing together long before Gaga's current fame. The tour has finally made its way over to the east coast of the US, features a New Years Eve date in Miami, and ends after four nights in New York City at the famous Radio City Music Hall. With the opening spot on one of the hugest artist in music, and signing to a major label, the future looks bright for Semi Precious Weapons.
Skope was able to interview Justin Tranter where he talks about the wonderful year the band has had, how(and why) they came together as a band, their upcoming album, and how he got on to MTV'S MADE.
The last year or so has been really big for you guys, and now that we are days from 2010, what do you have to say about '09?
'09 was an amazing, amazing year for Semi Precious Weapons. Especially the last two months, things have been insane. We signed a major label deal. We got the Lady Gaga tour. We've been performing to thousands people every night… It's been a really magical year, and I'm so excited for whats to come in 2010.
Now that you've been larger stages, what would you say you enjoy more; the large-stage shows, or the smaller-stage shows that you are more used to?
They both have their pros and cons. I can't really say which one I like better, they're just both so different. The smaller venues are so amazing because it's so intimate and I can see every single person's face in the entire bar, but the bigger venues are so amazing because music is reaching ten times as many people. They're both great.
Anyone can tell from looking at your pictures that you guys put on one hell of a show. What's the craziest thing that has happened at one of your shows?
The stage show is very, very crazy. Our staples that we do at every show that seem to get people very excited, or very angry, I pull out a bottle of champagne with a picture of my face on it and I feed it to everyone in the front row. I also change my entire outfit on stage, including my shoes and everything, which also causes a bit of a drama.
Currently you guys are writing your new record. Can we expect it to be different from We Love You, or an extension of that?
It's a little bit of both. Actually, the new record is going to be considered, in some ways, our first debut record, because we finally got the opportunity to record it how we always wanted to. So, we recorded it in the best studios in the world and Jack Joseph Puig produced it with us. There's going to be a couple songs from We Love You on this record, as well as a whole bunch of new songs. It's definitely a step forward in a new direction, but it's still staying very true to who we are as a freaky, filthy New York City band.
Can you say which songs from the old record will be on the new record?
Sure! "Semi Precious Weapons", "Magnetic Baby", and "Rock N' Roll Never Looked So Beautiful".
Aw, so "Her Hair Is On Fire" won't be making an appearance?
It well be, later though. It's going to be in a deluxe edition, like a bonus track, but it won't be on the main record.
You're currently on Lady GaGa's tour, but I know you guys have been performing together long before her current fame. How did two interesting artists like youreselves come together?
Through friends of friends in New York City. Lady Starlight told us that GaGa was a very big fan of ours. We checked her out and saw that she was amazing, and just started opening shows for her. We became friends, and she ended up in one of our videos that we made. We heard of each other through friends in New York City, thank god, and now here we are on a world tour with her!
You said she appeared in one of your videos?
There's a version of "Magnetic Baby" that you can find online, and there's a part where Cole [Whittle, bass player] is spitting booze on a girl by a boxing bag. That's Lady GaGa.
What artists would you say motivate and inspire you?
My favorite artists are AC/DC, Jay Z, Lil' Kim, and Hole… and Stevie Nicks… and Sharon Stone.
Your overall image is probably the most striking feature about your band, and you don't see many bands like you guys around anymore. With that, comes a lot of misconceptions and homophobia, so when did you decide you wanted to be who you are now, and how did friends/family react to it?
I've been wearing heels and make-up on and off since I was 15. Everyone was fine with it, I have amazing friends, amazing family, I went to an art high school in Chicago so I was very, very lucky. Every single day in NYC or wherever I am, someone said somthing stupid or insensitive, but I don't really focus on that stuff. I think it's a powerful thing that just by wearing a pair of shoes I can upset people.
Earlier this year you were on MTV's MADE, and you ended up being the MADE coach for the episode. How did that opportunity get passed along to you?
Well, I wanted to be on TV. I thought that I'd be a really good, and it'd be a fun show to be on. I tracked down the casting director through friends of friends of friends, and found the show for me. It seems kind of simple, but I made along phone calls and meetings to get that show.
Besides being in a band, you design pieces for your jewelry line FETTY, and for a while you had your own make-up that people could buy on the band's merch store. Any plays for designing clothes that people can purchase?
I don't think I'll ever do clothing. Jewelry is something I really like and that I'm really good, so I think I'd like to stick to that rather than exploiting fans into buying things just because my name is on it. I'd rather stay true to things I really love and that I'm really good at, so I think I'm always going to pick jewelry. If I do make-up again, I think I'll partner with a larger company.
If you weren't doing music, what do you think you'd be doing?
i don't know, it's really hard to say because I've been making music since I was ten years old. I guess if I wasn't making music, I'd really enjoy working in retail. I like people, I love talking to people, and working in retail is kind of a performance of some sorts.
You're from Chicago, so when did you move to New York?
I moved to New York City in 2002.
And you guys made the band in 2006. How did you guys meet?
I went to college in Boston before I moved to New York. We went to Berkely College of Music, and we met the first week of school. So, we friends for years before we started the band. We all moved to New York and were kind of just annoyed and bored with New York. We thought that when we got to New York, it'd be like a Andy Warhol documentary from 1969, but it wasn't.
It had changed a lot and it was very boring, and the bands were also boring. We decided, instead of talking about it, we would just start a crazy, filthy, amazing band and try and change New York. So, we would start playing shows at partys instead of typical venues, and that was just a way to bring something exciting to all the New York partys we thought weren't exciting.
I heard you called Semi Precious Weapons "garage-glam rock", and in the lyrics of one of Lady Gaga's songs she mentions something called "garage glamorous". Did she get that from you guys, or was it a term already floating around?
That was our term. That was just the kind of scene we were trying to create, the garage glamorous scene. Now we're just calling it filthy glamorous.
From 2009, what would you say is your top favorite album?
Can I give you three albums, if that's fair?
Sure.
Jay-Z's Blueprint, Mirana Lambert's Revolution, and Lady Gaga's The Fame Monster.
Now, out of the entire decade from 2000 to 2009, what would you say is your top album?
Oh wow… I would say… Hmm. I would say Patty Griffin'sImpossible Dream. There weren't really any rock n' roll records this decade, rock n' roll was kind of dead this decade. Patti Griffin's album I think is beautiful album, it's the perfect songs, it's inspirational , but heartbreaking, glamorous, and she's just an amazing song-writer. Impossible Dream is her best album.