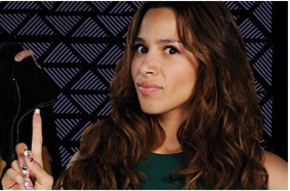 Kid Sister is the latest hip-hop starlet to pose for a peta2 anti-fur ad! In the ad, she poses next the tagline "Fur? I Don't Think So."
Never one to sugarcoat the truth, Kid Sister straight-up hates fur and wants to tell her fans what's up with her new anti-fur ad and interview with peta2, the youth arm of PETA. Take a peep at the ad and watch the interview, in which she dishes about fur, her favorite fashion brand, and her own furry companions.
PETA / Kid Sister AD:

Learn more about Kid Sister at peta2.com.