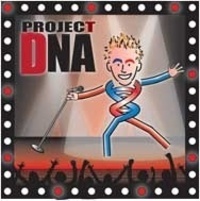 Singer/Songwriter, Jimmy Blecher is the driving force behind this new & exciting act.   Project DNA stands for "Do Not Ask", which is what Blecher would tell people inquiring about the new album.   The record is all said & done now and I must say that I am pleasantly surprised after taking a listen.   Blecher and his bandmates have created a sound here that encompasses catchy pop/rock hooks complete with a snazzy flare.   Blecher adds in his unique vocal style that mixed well with the vibilicious grooves present on this recording.   Jimmy's vocal tones actually appeared, at first, to be a bit cheesy at times, but in reality the voice worked splendidly with the overall feel of the record.   In the end, it seemed that Blecher and Project DNA, hands down, were in the zone & feelin' it—No questions asked!
Jimmy Blecher is actually coming from a hard-rock background with his other band, Amadius.   He and the rest of Project DNA really turned the tables on this album by making it more softer-edged 'n' poppy.   There are definitely still some rocked out moments though like on track nine, "Innocence", where you hear awesome guitar riffs all put together in a very rock-oriented fashion.   It's also worth noting that Jimmy was on American Idol last season as he made it all the way to the third round.  
Besides bringing the talents & goods himself, Jimmy also has some high-quality musicians in his corner.   Adding to the hoop-la that is Project DNA are such members as: one-time Sly and the Family Stone bassist–Beaver Howard, Funkasaurus Rex on drums, Blaze Barrett on lead guitar, back-up vocalists, Kendall Williams & Jessica Barrett followed by Bill Baum on guitar.   With an array of diverse artists coming from different musical backgrounds, this further adds to the allure of Project DNA.
The CD starts up with a party-like atmosphere right off the bat with "Callypso".   This track includes a fun 'n' fresh bouncy sound to go along with a cool, rock/pop flavor.   I was incredibly surprised on track eight, "Empty Promises", because the song had a much more somber/mellow quality to it.   On this number, you are getting a heartfelt/moving performance that comes complete with a neat audio effect of thunder crashing.   Another surprise was the ending of this album on "Take Me Away" due to its direction.   The song starts up with a fast & fun demeanor, breaks with silence in the middle, then cuts back in with a soft & touching, child-like medley.  
Jimmy Blecher and Project DNA seem to be pulling a different rabbit out of the hat throughout this entire project.   Plenty of tricks under the sleeves are displayed on this record due the abundance of creativity & originality.   Project DNA's debut release will keep you moving and will grab your attention right from the start!   For more on Project DNA and the new release, SKOPE out www.projectdontask.com.
By Jimmy Rae (jrae@skopemag.com)
[Rating: 4.5/5]