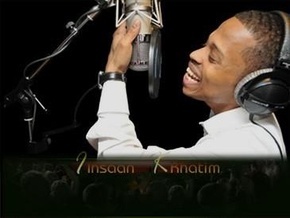 For all "Skoped Out" readers that love themslves some soul/R&B music my next guest has got your number. I caught wind of Ihsaan Khatim after receiving an advance copy of his new EP, 'Speak Life.' I played the track, "Pump Our Brakes" and that was all I needed to hear. Ihsaan is the real deal and he produces & records all his music in his own home studio so there is no limit to what he can do. I have actually got to know this man over the past few weeks and his positive & uplifting music transcends to him personally as well. Join us as Ihsaan talks to Stoli about his upcoming album, the advantages of having your own studio, "The Wedding Tour", and so much more. The EP, 'Speak Life' is on sale on www.skopemag.com as well. Merry Christmas!
Stoli: At what age and what experience made you realize that you had a special gift for music?
Ihsaan: We can personally remember performing every since the age of 8, Growing up in a creative environment and the church fostered us to let our gift blossom, we were surrounded by some of the most gifted singers and musicians in the world. We would find ourselves listening to them as my Mom would be performing with them, and fighting at the age of 8 to be in these adult choirs and performances and humbly demanding that they let us participate!…and they would let us try out like every-one else, and we would make the choirs and groups and at times be called on to give others their note.  
Stoli: Your "EP" is out now. Who have you been working with on this EP and how did you decide what songs you wanted to put on it?
Ihsaan: We'll Stoli the Pre-Release starts next month with advanced copies of the Physical "EP" shipping on the 6th of Dec. to fans for the Dec.15th Pre-release, and on this "EP" is three songs selected off the 2010 Album   "Speak Life" which we worked with Engineers: Ralph Sutton (Stevie Wonder, Prince, Motown),John "Goog" (Babyface, The Deal). Musicians: Willie Ross (Ojay's, Gerald Levert), Eddy Bacus Jr. (India Arie, Pieces of A Dream), Talib Brightwell and Singers: Stephanie Bolton (Angie Stone),and Maclyn Roy. The songs were selected in terms of energy and initial introduction of Ihsaan Khatim, we felt these represented the overall tone and character of our essence.    
Stoli: This EP is a preview to a full album coming out in 2010. Will the same tracks also appear on the album?
Ihsaan: Yes, we are also considering some different bonus versions for the album.
Stoli: You have a very positive message which I appreciate. is that a reflection of who you are as a person as well?
Ihsaan: Absolutely, without question…We live for Love, Within A Love   of Excellence, we know that Love will endure & heal all things. The only other emotion that exists would be fear and we can't dwell there, fear is the under-current to what comes across as negative, wrong, spiteful, etc.. So we choose to Be where we can experience an abundance of happiness.
BUY IHSAAN KHATIM 'SPEAK LIFE' EP $4.95:
Stoli: When you wake up every morning what gets you most excited being a musician?
Ihsaan: That's a two-fold answer, starting from the same space- Melody & Vibe, Hearing A melody within me that moves me and then wanting to share it with the world, so they can experience the vibe and   get what they need from it! Music is a powerful tool, the sound alone can begin to inspire and resonate hope, and change in one's life. Also, being in the studio creating with the other musicians…there is a whole lot of love and magic that goes on in our process of creating the songs. We have some great moments together, in the creative process as friends who have become family…and We get up just wanting to be there creating with these awesome musicians!
Stoli: You have your own recording studio. Is that where you recorded the EP and how does having that help keep fresh music flowing?
Ihsaan: Yes, we have our own room, and yes 95% of the "EP" was done in our facility "The Magic Room", All the mixes were done there. Having our own professional rooom allows us to take our time and perfect the songs, We use the equipment as an instrument also, we have the freedom to really dig into each piece of gear and explore it's creative contributive potential, try out ideas, get back to them later. So, when we have a vibe we lay it, we don't have to wait to book a session somewhere…we put it down, call up whomever we feel will add to it and start bringing a new song to life.
Stoli: What kind of setting must you have when you step in the booth to lay down vocals?
Ihsaan: A positive signal flow! The Room must be clear of any low resonance and interference (in terms of mechanical and energetically) from everything and everyone in the room. The mechanical side is easy, clean room and all equipment looking and sounding top notch (No Hums..No Dust,or wire clutter), The room has to feel top notch far as ambience. Now, energeticly is a challenge at times. We work to keep Ego's out the room and dissention, any bad vibes one might have brought from outside challenges can't be present,   All hearts of mind must be cleared to make sure everyone feels that their   contribution is Needed and valued, therefore they all will work, towards encouraging the Best vocal performance We can deliver, they all need to be excited and genuinely interested about our performance. If such is not the case we can feel it, and it will hinder us,it will impeded the flow of our gift to the song and later there's.
Ihsaan Khatim "Pump Our Brakes" MP3:
Stoli: You merge various genres. Who are some artists before you that are huge influences?
Ihsaan: Wow… we study so many Stoli, to name a few: BB King, Barclays, Kenny Rodgers Rev.James Cleveland, Commission, Winans, Hall & Oates, Babyface (The Deal) Lionell Ritchie (Commodores), Stevie Wonder, Donnie Hathaway, Eric Clapton,   Michael Bolton, Debarge, Switch, Rick James Boys II Men, George Benson, Tony Toni Tone, Glady's Knight, Whitney Houston, Darryl Coley, John P Key, Anita Baker, The Carpenters.
 
Stoli: I love the idea of "The Wedding Tour." How did that fresh idea come to be?
Ihsaan: Well my little cousin got married and she would not let me off the hook about singing at her wedding, and she just loves this song off the album "Love Created Us..Just for Us", So we performed it for her coming down the isle and everyone in the place was in tears, and we started getting requests for it from people who were their telling others whom they knew was getting married. It's the perfect wedding song and we have performed it at three weddings so far and the response is overwhelming. so, we decided to promote a wedding tour for wedding parties of 50 or more to be eligible for us to come and perform this at their wedding coming down the aisle.  
Stoli: Do you feel that hip hop overshadows R&B and soul music in the mainstream media?
Ihsaan: Not really, we just feel R&B and Soul is absent representation. From the Artist side, the Label Side, and the Industry side and till recently the society side. There must be a return back to the desire for quality music, quality lyrics, even in Hip Hop ! The Degradation of our expectations and what we will accept has overshadowed R&B and Soul, the more we accept music with no substance, the less need to have the genre of R&B and Soul. So the market just groups it into urban hip hop…because by the way they don't have a base of real listeners anymore,…just throw R&B and Soul in with Hip Hop as urban stuff.
Stoli: You were born in Cleveland but now reside in NY. What opportunities did NY offer you and are you pleased you made that move?
Ihsaan: At, times…. sort of contemplate how different would the journey be if we were born and raised in New York and grew up in the circle and influence of the people that were,and some still,and the ones who have become major decision makers within this industry. We travel a lot back and forth between Cleveland, New York, and Los Angeles and have more of a global vision for our career, but early on being in New York helped us adjust to what it takes to make it happen !
Stoli: How much of your real life do you transcend into your lyrics?
Ihsaan: All of it, we write from what we have experienced in some form or another, whether personal or observation.   We come from a place in our writing approach that expresses the truth of the human experience, What it really is even if it's never vocalized and said. So we find a musical way to express what's within the heart of mind at the core of where humanities' social conscious is and also willing to Be.
Stoli: The reviews on the EP have been positive. How excited does that get you to release the album?
Ihsaan: We are patiently excited to allow the world to hear our first musical gift in the way of the Album "Speak Life".   More so, we continue to work hard, each tune on the album is a gem, and will that all the elements will align so that this Album reaches millions worldwide. The whole album is Excellent!, and from the reviews on the "EP" we know the album will do great.
Stoli: In these tough economic times how does positive music like yours help the people cope in their struggles?
Ihsaan: 3min:45seconds of something created for positive change, heard at just the right moment and time, can be a 3min:45second miracle. What we listen to affects how we think, which in turn affects how we feel, therefore influencing our decisions to act. Great music even in the toughest of times and situations will give someone that little extra spark they need to put their life on the Upswing!
Stoli: What is coming up for Ihsaan and where can readers get more from you?
Ihsaan: For now just focusing on giving value to the individuals that like our music enough to become our fans. We want to offer the The very best of who we are and the musical gift we have to share, so we are working on at every offering to give way more value to our fans than what they pay for. We want them to know that whatever their purchase,and whatever amount they have paid is only a small donation for our gift to them, as we have come to gift the world with our "Melody of Life".