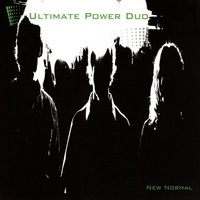 Saskatoon isn't exactly a tourist destination of the highest accord in Canada, but at least acts like Ultimate Power Duo are doing their best to put the province's musical talents at the forefront. The raw energy of the band's second full-length, New Normal, is a surprisingly meaty listen for a three-piece, with scuzzy solos laced upon chunky, stomping rhythms.
Little time is wasted on New Normal; and while that's a classic ethos of any punk record, at times the vocals sound muted and rushed, which isn't exactly a powerful combo. But the song-writing remains strong throughout New Normal, particularly on the old-school Buzzcocks-inspired punk anthem, "English Snotty Boy." The track ends with studio applause, which confirms another not-so-sneaking suspicion I had about Ultimate Power Duo; they're a party band.
While there are times when the threesome seem hell-bent on not taking themselves seriously, such as the sing-a-long freakout of "Johns On Acid," often that kind of unapologetic carelessness is just what the doctor ordered. And while many might be quick to write this band off as not giving a shit about success or mainstream appeal, along comes "Rad Rock Show," the kind of straight-up, buzzing track that treats rock and roll for what it really is: a carefree good time.
By Joshua Kloke
[Rating: 2.5/5]