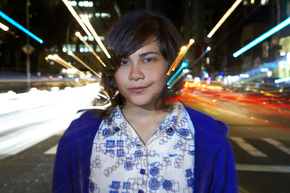 Lay Low, the alter ego of Icelandic singer/songwriter Lovisa Elisabet Sigrunardottir, will make her North American debut on March 9, 2010, with the release of 'Farewell Good Night's Sleep' on her own Loo label.
Recorded and produced in London by Liam Watson (White Stripes, Holly Golightly, James Hunter) at his analog mecca Toe Rag Studios, the album features eleven new songs (ten penned by Law Low, plus a Lefty Frizzell cover) with backing from the following first-call musicians: Carwyn Ellis (piano), Ed Turner (guitar), Rupert Brown (drums), Matt Radford (bass), Jason Wilson (bass) and BJ Cole (pedal steel, dobro).
Lay Low will tour the U.S. extensively in 2010.
'Farewell Good Night's Sleep' track listing:
I Forget It's There
By and By
The Reason Why My Heart's in Misery
Last Time Around
On My Own
Farewell Good Night's Sleep
Why do I Worry?
Days Have Been
Little by Little
My Second Hand Heart
The Country Ballad
MP3 of "By and By":
[youtube 7n4jrwNhsQo nolink]