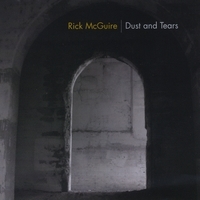 The first thing to say after listening to Dust and Tears is that Rick McGuire is the man!   This singer/songwriter from Minneapolis has created something here that is so incredibly cool-sounding.   Pop/Rock is the main driving force behind the album, but McGuire adds his suave & edgy vocals to the mix to make up a very special substance of material.   The instrumentation also added to the emphatic feel of this record, especially on the guitar.  
Rick McGuire was actually a member of two other prior bands, Escape & Orion Eyes, before deciding to go solo on this new project.   Playing music then that blended such elements as hard rock & R&B; Rick has come full circle with a new & invigorating sound all of his own.   His transition to the solo spotlight has been smooth-as-butta based on what I hear from this recent release.
McGuire is actually responsible for the majority of all aspects that went into the making of this album.   Besides being the sole singer/songwriter, Rick also added guitars, bass and drums while also recording, engineering & mixing the record.   He did have additional help though from one individual by the name of Donnie LaMarca who played the keys, piano, strings, Hammond B-3 organ and also added other hip sounds.   The combination of all of this is a winning success, in my opinion.   Rick McGuire appears to have a knack for music-making in general and looks to shine as a solo recording artist.
What I loved most about Dust and Tears was how all the vocals & arrangements just seem to jive together perfectly.   What I hear is a laid-back, easy going feel to go along with contagiously catchy melodies & rhythms.   McGuire sings in a very convincing manner as he lays out well-thought-out & heartfelt lyrics.   The tracks are actually quite simple in form, but ridiculously effective on paper.   I am hearing a seasoned studio pro in the making that knows how to cut a damn solo record!   I can even see this entire album being extremely radio-friendly, so watch out radio stations.  
Rick McGuire is offering the listening public a new way to hear & experience audio coolness.   Whatever Rick did to perfect the overall flow, style and sound of this album; in the end it worked big time!   For more on Rick McGuire and his brand new release, Dust and Tears, SKOPE out www.rick-mcguire.com.  
By Jimmy Rae (jrae@skopemag.com)
[Rating: 5/5]