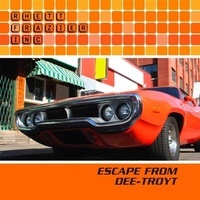 The cover art for Los Angeles based Rhett Frazier Inc.'s debut disc Escape From Dee-troyt says plenty. A classic orange muscle car is parked along a street surrounded by a couple of colorful retro-looking buildings.   This picture is a perfect metaphor for the disc's sound because old time soul and funk and bluesy rock ooze out of every impressive song on Escape.
That cover art is misleading though. Because unlike many artists that only copy their influences, Rhett Frazier Inc. is smart enough to update its sound to incorporate electronic elements and catchy beats.
Evidence of this comes early on as the opening track "U Can't Stop" blares with a funky guitar riff backed by a bouncy beat and understated synths that all but announce that it's time to start a party. Making the track even better is Frazier's singing which goes from a falsetto to a croon impeccably as he pleads: "The future's caught you from behind/You can't stop what's already happened."
"U Can't Stop" is just so damn good that it would be understandable to expect the rest of Escape to disappoint. That is not the case though. "Nuthin'" is another highlight with its freaky backing track that sounds like it is cribbed from a hip-hop song but works perfectly with its funky rock guitar.
Even the slower numbers like "Faultline" and "If I Said" impress. The former song is a standout because of Frazier's emotional vocals which channel both polished soul singers like Luther Vandross and the more grittier ones like Bobby Womack.
As for the more rocking tracks, there is no letdown among them either. "Heaven" is startling as it takes grittiness to a new level. Fantastic guitar work by Jesse Stern and propulsive drumming by Donny Gruendler punctuate Frazier's bluesy wails of "Hope there is a heaven so I don't have to your face when I'm dead." Elsewhere, the closing track "BeLong" works well with lighter, witty lyrics about a former relationship but the guitar and bass still sound delightfully dirty.
In the end, Escape from Dee-troyt is a great listen that takes the best elements of classic blue eyed soul and funk and updates it for today's listener. And all the praise for that should go to Frazier and Gruendler–the two brains behind the band–for composing something that will sound great at a large party or on a pair of majestic headphones.
Author-Todd Sikorski
[Rating: 4/5]