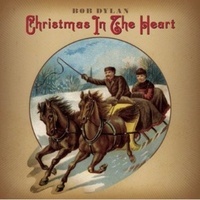 I wonder sometimes if it isn't tedious being Mr. Bob Dylan, having listened for decades now to people lamenting over his inability to "sing." Mr. Dylan sings in Christmas in the Heart, his 2009 collection of holiday classics, both secular and pious. He sings well. Yes, Mr. Dylan's vocal chords are old and abused, beat-up, gravelly and jagged. And yet he hits all the notes he seeks, and does so with eloquent pronunciation and poise. What's more, Mr. Dylan has been singing for quite some time now, like no one else on earth. It'll be unfortunate if those coming up in this new century don't learn to broaden their interpretation of what that little word, "singing," means.
Starting in the early 1960's, a bold new generation of six-stringed prophets may have tried to change the world, with Mr. Dylan setting the standard. Maybe they succeeded, maybe they failed. But with his incredible work ethic, his ability to find within himself new musical personalities, and his dogged refusal to let the "Never Ending Tour" ever come to an end, Mr. Dylan has succeeded in changing the world in a different way: He's created the persona of a walking songbook of American culture, one seemingly prepared to continue giving of itself, indefinitely. Critics would say Mr. Dylan lost his political edge, his relevance as social critic, some time ago. More correctly, Mr. Dylan evolved beyond both, quite some time ago.
Granted, in live performances Mr. Dylan's vocals frequently come off as indecipherable, gravelly rants. But Christmas in the Heart is a beautiful, thrifty production, well-recorded and clear as a bell. Instrumentation (including Mr. Dylan's own guitar, piano and harmonica work) is swingy, bluesy, acoustic and comfortably sparse. Each song is a brief couple of minutes long; there's no longwinded jamming or improvisation here. Back-up vocals and arrangements are delightfully in keeping with classic Berle Ives and Gene Autry Christmas renderings. The angelic yet earthy female vocals on "Hark the Herald Angels Sing" are in breathtaking contrast to Mr. Dylan's own road-weary tones.
Hiding directly behind Mr. Dylan's eternally cool vocal delivery is a heart-warming glee, especially apparent in the happy, secular numbers like "Here Comes Santa Claus" and "Winter Wonderland." ("Must Be Santa" alone is worth the price of admission. You Simply Have To Hear It!) Though most of the sheer joy of this collection comes from Mr. Dylan covering the child-like Christmas ditties, it's also great fun (of a different sort) hearing him recite the Latin verse of "O' Come All Ye Faithful." As did his predecessors, Mr. Dylan places the holly and the jolly right along side the sacred, giving equal amounts of respect and reverence to "Have Yourself a Merry Little Christmas" and "Silver Bells," as he gives to "Little Drummer Boy" and "The First Noel." A point's being made here.
If Mr. Dylan's ambition was to have this collection sit right there beside the Bing Crosby, Nat King Cole and Leon Redbone Christmas albums, then Mission Accomplished. I know that's where my copy will be. Thanks to his able and learned band, his wonderful supporting vocalists, and thanks to Mr. Dylan's own stalwart determination, Christmas in the Heart is as lovely a musical gift as anyone's likely to receive this holiday season, regardless of belief system or denomination. Thank You, Mr. Dylan, and Merry Christmas to You.
By Dave Downs, 12/11/09
www.davedownsmusic.com
[Rating: 5/5]