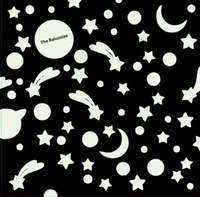 Finding a balance between unrestrained energy and genuine talent can be a tough pill to swallow for young bands. Finding their footing as far as capabilities and limitations is a practice that often takes a few records. Such is not the case for The Balcones. Their self-titled release features three remarkably talented musicians having a crack at well-oiled dance punk. All the while they still show a flair for meaningful pop, almost as if they felt like shoving a stick of dynamite up Morrisey's ass.
Tracks like "Smells Like Secrets" blend a snotty, beach punk riff into a swarming, rising chorus, with all three members of the band contributing distinct harmonies. The Balconies make things look easy, with melodies to spare. Each track on The Balconies blends influences, but never makes its way into complicated territory. And despite the fact that The Balconies influences shine through (Listed in great detail on their Myspace page) the record never verges on an unoriginal sound. It's a motivated sound, that's for sure; but by allowing each of the three members of The Balconies get equal opportunities to shine, the record evolves into a comprehensive and undeniably entertaining listen.
"Battle Royale" displays Jacquie Neville's seductive vocals on what is not only one of the better dance-rock tracks on the record, but of the last year as well. It's a shame so many dance floors haven't been introduced to The Balconies. And the end of the road, borderline spooky groove of "Ghost Fever," is an anthem in its own right, but there's enough hooks on this debut to get keep listeners satisfied for many listens. Or, if you'd really like to enjoy this record, many all-night dance parties.
By Joshua Kloke
[Rating: 3/5]