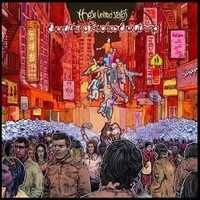 The motor is really running at full steam on Everything Touches Everything, the latest from alt-country groove masters These United States. They move with the melodic ease of a rowboat at dusk while still giving a noticeable homage to an unyielding joy that results in some pretty damn catchy rock and roll.
If there's an elegance in the tracks, its how unrestrained this quintet builds their vibes. The smell of smoke is almost palpable, not just because how road-trained these five dudes sound but because the eleven tracks on Everything Touches Everything burn with a classic American M.O.: a wink and a nod at the past (Their influences, including such classics as Petty and Springsteen ) with eyes focused clearly on the horizon. And that's an exciting prospect, considering Everything Touches Everything is the band's third full length in 18 months.
The opener, "I Want You To Keep Everything" is the weightiest track on Everything Touches Everything, but is by no means a standout. It simply represents the aesthetic of the record. The straightforward, rippling riff and a tough-as-nails melody results in something brilliant; a rock record that hits with formidable punch but isn't afraid to smile along the way.
By Joshua Kloke
[Rating: 3.5/5]