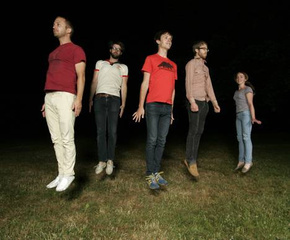 Seattle has long been at the forefront of indie-pop music as made evident by some of the nation's best independent record labels. Now in the midst of its most exciting growth period since its conception, Paper Garden Records has found a real diamond in the rough with Seattle's Mighty Tiger.
The five-piece Capitol Hill dwelling chamber-pop group will be releasing its debut album, Western Theater, on March 9, 2010 and tour down to SXSW and back with fellow Seattle rockers, Grand Hallway.
Mighty Tiger's "33 1/3":
Western Theater, Mighty Tiger's full-length debut album, is a testament to the vision of the band: conceptual yet cohesive and relaxed. The spectrum of inspiration is apparent, with nods to the sonic landscapes of Beach Boys' Pet Sounds and Built To Spill's Perfect from Now On. But while Mighty Tiger shows a refreshing willingness to wear its musical influences on its sleeve, the primary strength of the album is the way the band's divergent points of reference unite around a sound that is distinct yet often tastefully unpredictable; whimsical chamber pop swirls in a turbulent sea of epic indie rock glory. Mighty Tiger have created an eclectic atmosphere in Western Theater that is as intellectual as it is intelligible and as somber as it is light-hearted. One thing is clear about this record and about this band: Mighty Tiger wants its listeners to have as much fun listening to Western Theater as they had making it.