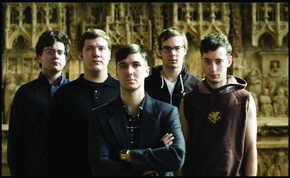 Brooklyn-based five-piece Extra Life has announced the release of their second album, Made Flesh, on LOAF Recordings in March 2010. Extra Life is the primary musical vehicle for Charlie Looker, singer, guitarist and composer, who has become one of the most intense and respected voices in the New York experimental underground.
Looker was a core member of legendary brutal chamber ensemble Zs and has also worked with diverse artists such as Dirty Projectors, Glenn Branca, William Parker and the S.E.M. Ensemble.
LIMITED-EDITION VERSION OF SONG "BLACK HOODIE" FOR FREE DOWNLOAD:
Formed in 2007, Extra Life combines elements of Medieval chant, metallic hardcore, dark neofolk, abstract modernism and lush pop. The music is cosmic in scope, a sacred alchemical marriage of the earth's crude, blackened weight and the ethereal light of the divine. Extra Life's debut CD, Secular Works, was released in the US in 2008 on Planaria Recordings and in Europe in 2009 on LOAF Recordings to wide critical acclaim. Their month-long tour of the U.S. included bills alongside Carla Bozulich, Abe Vigoda, the Dead Science, Excepter, Thrones and Rain Machine. Extra Life also did a European tour, playing festivals including Primavera Sound (Barcelona), Villette Sonique (France), Kilbi (Switzerland) and Moers (Germany) and sharing bills with Sonic Youth, Sunn 0))), My Bloody Valentine and Deerhunter.