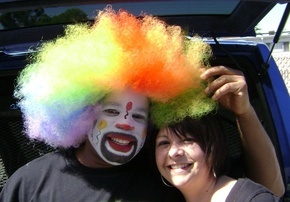 Here is an informative interview for bands who are thinking about what the current state of traditional Publicity means to them and what to do about it. Laurena of Grit PR is interviewed by Taylar Kuzniar and it is so well done we got clearance to run the piece on Skopemag.com.
Hello, Laurena. So your company is called Grit PR and Consulting.   Can you talk a little about your company and what it is that you do?
Well, I am a publicist who works with a diverse group of independent artists.   My clients include performing artists, musicians, fashion designers and creative business visionaries.   We cover a wide range of artists all across the country giving them local, national and international press to help their businesses grow.   We also pride ourselves on only covering a certain amount of artists in the same genre or with the same interests in order to limit in-house competition.
What exactly is a publicist supposed to do for an independent artist?   Can you give us the basics?
A publicist's goal with independent artists is to gain media coverage for the artist. The coverage can pertain to a CD release, tour, or any other newsworthy item. The basics start with a press release and pitch letter written by the publicist regarding the newsworthy item.   Once approved, the publicist will distribute the letter and press release to their list of media contacts, which can be national or international.   Grit PR and Consulting is extremely flexible to all clients' needs.   There is no template for our service campaigns; everything we do is individualized to fit your own personal interests and goals.   Our firm offers many services including publicity, business development, grant writing, tour press, radio promotion and product launches.   We pride ourselves on the ability to mold to any artist's needs.
Since you offer such a wide range of services to your clients, at what phase of their career should a band or artist hire a publicist like you?
It's always best to look into a publicist when something newsworthy is happening with the band such as a CD release supported with touring, entering the studio to record with a known producer, a new collaboration with known artists, etc.
Let's say I'm a new band with my first indie release and I decide to hire you as my publicist.   What kind of coverage can I expect and what kind of results should I anticipate?
Although it truly varies from artist to artist, generally speaking, you can expect that every magazine, newspaper, and weekly publications will receive information about your release.     We would come up with a newsworthy angle in order to catch the attentions of everyone we contact and we would be persistent with all of the media we contact in hopes that they would cover your story by publishing a CD review, feature article, or interview, for example. Depending on the needs of the artist, we also can offer other services such as radio promotion, pitching the artist's music to licensing agencies, managers, booking agents, and tour coverage which includes contacting all print, web, radio and television media in each tour city.   We have also negotiated recording contracts on behalf of our clients.
The world of public relations is constantly evolving with the popularity of the internet to exchange and receive information. Large newspapers have been either adapting their ways to include the internet, or have suffered greatly due the loss in readership.   Even radio has taken on a new life now that many radio stations broadcast over the internet to compensate for free music streaming websites. How has your job as a traditional publicist changed in the past few years?
With fewer and fewer resources for print media, the competition is fierce. Building a newsworthy story about the artist is absolutely critical.   In order to reach larger audiences, we are collaborating with Cyber PR, a company that specialized in using online media portals to increase artist coverage.   This collaboration has offered a wide base for us to work from so that we can refer to online resources and support in our pitches.     Online publicity has become one of the most important ways for an artist to promote their work; many contacts no longer accept phone calls or hard press kits, so we develop Electronic Press Kits and utilize email.   We offer traditional publicity and internet publicity in order to give our clients the widest coverage possible, and we often assist with the artist's social networking presence and make changes to their websites to maximize their coverage opportunities.
Considering all that you have told me about the importance of the internet in publicity, do you think that a band or a music business brand has any chance of building an audience without using social media?  
I think the jury is still out on this.   My answer for "today" is no, however, I also think people are getting overloaded and need more personal contact in order to break through the competition.   This is another reason why having a publicist with many business contacts can be extremely helpful for an artist's media coverage.
In today's world where budgeting and saving money is on the top of everyone's lists, it can be hard for a new artist to afford a lot of PR.   Let's say I have $500 to spend on publicity. What do you suggest I do?
Publicity is one of the most important things for a new artist, because getting the word out is what is going to help your band or company really take off.   Since you want the most "bang for your buck," I would think about what is truly newsworthy about what you are doing at that moment and then think about what may benefit you most. For example, if you are touring, you may want to use the funds to be sure you are listed in all newspaper/magazine calendars in each city so that you have full houses and can sell as much merchandise as possible at your gigs.   This is critical especially if you earn a door split at your shows.   If you are not touring and your release is only available online, I would invest in Cyber PR or a combination of both traditional and Cyber PR.
To get a complete coverage, first you need a story.   For example, if you are a musician, just the fact that you have recorded a CD is not enough because you should always have a strong angle in order to "sell" you story and get people interested in your work.   As far as materials, you need a professionally written bio, media release and pitch letter (which we often create with and for the artist). You absolutely need great photos (both high and low resolution), and a promotional CD or promotional version of your CD. Other helpful items include past press clippings, a list of past media quotes about your work and a general "one sheet," which gives the reader everything they need to know about you on one page, including a photo, a shot of your CD cover, and bullet points about your release or about you as an artist.   With all of this information your band could make a great start.   After that, the publicist will try to get the information into the right hands and then, it is up to the person at the paper, magazine, or website to decide whether to cover your work or not.  
Interview conducted by freelance writer Taylar Kuzniar
Photo: Laurena & Tommy The Clown